Tributes to rowing legend John Hartland
Wednesday 3rd February 2021 9:23 am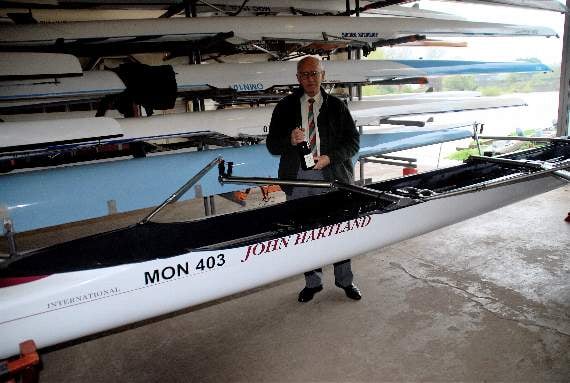 John Hartland pictured at MRC HQ at the naming ceremony for the boat bearing his name
Subscribe newsletter
Subscribe to our email and get updates right in your inbox.
Tributes have been pouring in for popular Monmouth man John Hartland who was a respected and much loved member of the local and national rowing community.
John, who died on Wednesday, January 20, was the Welsh Rowing vice-president and former Welsh Rowing Council chairman and Wales team manager.
He was also a member of Monmouth Rotary Club and was heavily involved in many am dram productions in the town, performing with wife Ann with the likes of Off Centre.
Longstanding friend and fellow Welsh Rowing vice-president John Jenkins, president of Monmouth Rowing Club, paid tribute to John Hartland who he refers to as 'JH'.
He writes: I had been a member of MRC for a few years before John came to Monmouth as a master at the boys school.
That was in the early part of the 60's, when he arrived from Hereford and had already been instrumental in starting a rowing section at Whitecross school.
Before moving on, and to give more background John was born in the Southampton area, and from a early age was involved with his local rowing club.
This gave him a grounding in what I call watermanship which was then combined with his Loughborough sports degree, making him a first class coach, and at the time one of the few people who were classified as Gold Medal.
This was obviously to the great benefit of us all in the area, not least to the boys at Monmouth School many of whom went on to maintain great enthusiasm in rowing, including some who achieved Olympic, world and European medal success ( Robin Williams, Charlie Wiggin and Lord Colin Moynihan to name but a few).
Not long went by when John got together a few local members with a view to getting the first Monmouth club crew into Henley R.R.
To help in achieving that he was instrumental in getting the River Wye Guild (?) to buy a coxless four for us, otherwise the club only had a shell coxed four which had an interesting twist in it's hull.
In 1966 the coxless four helped John and Monmouth achieve the goal of getting into the Wyfold Fours Event, and a notable win against Leander on the way!
At that time John was also working at resurrecting the Home International which a few years earlier had taken place on the Serpentine in London. The resurrected event was held at Monmouth in 1966 with only Scotland accepting the challenge invitation. From that enthusiasm of Johns, and as most of you will know, the event, now includes all the home countries and southern Ireland and has become a large fixture in the British Rowing calendar.
In the late 60's John became involved with the day to day running of our club, becoming Chairman. The club house in those days was an old stone and wooden structure, being a former warehouse building on the town wharf. John planned for a new clubhouse. Remember we were a very small club and the hard graft fell on only a few shoulders but thankfully one of those were John's. Success was achieved and the club house you all enjoy today resulted.
If it were not for John's dedication, energy, drive, enthusiasm and sheer dogged determination I have absolutely NO DOUBT that the club house would never have been built, he was the catalyst.
As if that wasn't enough, a number of years later John returned as club Chairman and drove forward putting a pitched roof on the club, in filling the ground floor with changing facilities, training room, additional boat housing facilities and steps.
Once again his was the engine that drove that to completion. All through these events he remained the boys school coach, producing some really good crews from such a small school club. He was also greatly involved in the early years in forming The Welsh Amateur Rowing Association ( now W.R.C.) to which he became Chairman and an organisation we are all affiliated to.
He spent a considerable number of years as Regatta Chairman/Secretary, and it was due to his foresight that Monmouth Regatta moved to the Spring Bank Holiday date - before many years had passed Monmouth was one of the largest one day river regatta's in the country, a few times with entries around 300 and on one occasion 350.
Again all this was indirectly down to J.H.
Towards the end of his teaching career John was the prime organiser for forming the Haberdashers Monmouth Girls rowing club, after he had completed his duties at the boys school.
It wasn't long before the girls were winning medals at National schools and National Championships.
I apologise that this background history of John Hartland has taken more space than perhaps some envisaged, but after starting to pen these words I found it impossible to précis such a fully achieved life without including some of the background to what he did.
It is indeed the end of an era and such a sad loss.
It is the story of someone who has put into life so much more than most of us could ever envisage. MRC must celebrate a life dedicated to providing something better for us all.
I feel that perhaps a new address for the club could be "The John Hartland Boathouse, Wyeside, Old Dixon Road, Monmouth''. Any other suggestions?
Other people who joined in paying tribue to Mr Hartland included the former Minister for Sport and chairman of the British Olympic Association Colin Moynihan, who started his sports career as a cox under Mr Hartland and who went on to win the Boat Race and an Olympic silver medal raising his "invaluable coaching". He said: "Monmouth School has lost not just a great coach and teacher but a great Ambassador for the school, the town and for the world of rowing."
GB Olympic gold medal coach and 11-time Cambridge Boat Race chief coach Robin Williams said: "Many of us owe what we are today, and where life has taken us, as a result of the journey he started us on. Generations of OMs will be greatly saddened by his passing."
Moscow Olympic medallist Charles Wiggin: "A sad day but one that prompts so many fond memories… it was he who put me up for a trial at Leander, the rest is history."
GB and Wales international and former Leander captain Ivor Lloyd said: "So sorry to hear of his passing, a true driving force of Welsh Rowing."
Maggie Phillips, editor of the British Rowing Almanack said:
"He was such an inspiration to our sport at all levels - and a true family man."
World U23 medallist Rob Hollis added: "He helped to put me on the path of what became 20 years of my life and led me to where I am now. My condolences to all the family."
Queensland director of coach education and Monmouth RC ex-pat Mike Partridge said: "Really sorry to hear… I owe him a huge debt for my development in rowing."
London 2012 Olympic coach Roger Meager also paid tribute saying: "One of the very best examples of a dedicated caring and expert coach I have ever know in this sport. Many many lasting and fine memories of him."
Olympic finalist Pete Beaumont said: "His love of the sport will live on within the many people he inspired."
Oxford Boat Race Blue Paul Marsden: ''I will always have good memories of his coaching and leadership and I have much for which to thank him.
''I remember when he first introduced us to technology in rowing coaching when he took some film of us rowing during training in Spring 1970. The film had to be developed, so immediate feedback was impossible.
"A couple of weeks later, we met up to watch the film with the fantastic new facility of slow motion and even frame by frame action, something that these days coaches and crews take for granted as immediately available after the outing.
''I learnt a great deal that day in one short meeting that shaped my personal technique for the remainder of my rowing career."
Welsh Rowing - "We are deeply saddened by the passing of John Hartland, who has had such a profound and lasting impact on the sport of rowing in Wales. Our most sincere condolences go to John's wife, Ann and his children, Nick, Kate and Jim, with whom many within the rowing community in Wales will be very familiar."
Because of lockdown restrictions the funeral will be family only.
Comments
To leave a comment you need to create an account. |
All comments 0