Tributes to former Beacon editor Ken Goodwin
Friday 19th February 2021 9:07 am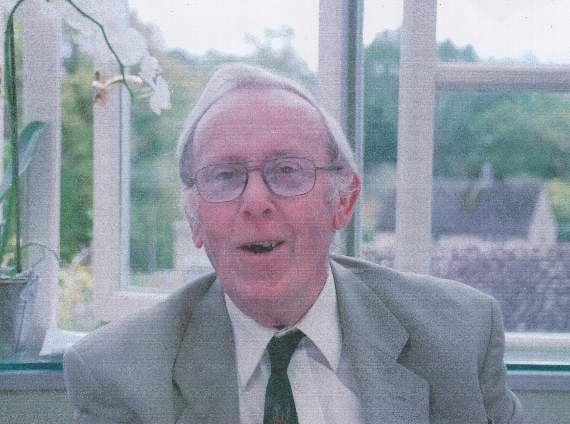 Former Beacon editor Ken Goodwin
Subscribe newsletter
Subscribe to our email and get updates right in your inbox.
TRIBUTES have been paid to former Beacon editor Ken Goodwin, whose funeral takes place today.
Ken's career on the 183-year-old paper spanned an incredible 50 years.
Newspaper mogul Sir Ray Tindle, who spent two decades working with the Monmouth-born father-of-two after acquiring the paper in 1980, said: "Ken Goodwin was one of the best local newspapermen of his generation and brought the Beacon through thick and thin for over 50 years.
"I was so sorry to learn of the death of Ken who I first met on the day I bought the Monmouthshire Beacon.
"I was pleased to pay tribute to Ken at his retirement lunch held at Monmouth Rowing Club in July 1999.
"I send deepest condolences to his wife Angela and the family from all past and present staff at Tindle Newspapers. Rest in Peace, Ken."
Former Tindle Newspapers chief executive Tom McGowran added: "He was an unflappable man with a wry sense of humour, working long hours, often on his own to bring out the Beacon every week come hell or high water.
"Without his dedication to producing a good local paper there is no doubt the paper would never have thrived over the past 40 years."
Owing to the dilapidated printing works at the rear of the Beacon, the paper was printed for some time in the Ross Gazette offices until a Cossar press was installed in Monmouth by Sir Ray, overseen by Ken, which brought printing back to the town.
"Later on Ken oversaw the change to new technologies, being amongst the first editorial people in the country to change to direct entry keyboarding whilst most of the industry was still using hot metal," added his former CEO.
"I'm proud to say I worked with him as a colleague and friend over the years we were together at the Beacon.
"He will be missed both by his family and old colleagues."
Monmouth MP David Davies also paid tribute. He said: "I first met Ken over 20 years ago when he was still the editor of the Beacon and continued to see him after retirement in the Conservative Club.
''He was an incredibly decent man and his many years on the paper meant that he was incredibly knowledgeable about the town and its people. He would often offer a few sage words of advice over a pint at the club. I know he will be sadly missed by many people."
Mary Hughes, who worked as a reporter with Ken over some 30 years, said: "I was so sad to learn of the death of my dear old "boss" Ken. He was simply wonderful to work with - kind, considerate and with a great sense of fun."
She said that despite the reservations of the then owner, Ken swept them aside and made the 'shy 19-year-old' the newspaper's first full-time woman reporter in 1969.
"Ken was an excellent teacher, patiently showing me how to construct a story and encouraging me to feel free to leave my desk and go out and about around the town (advice I took rather too literally in the early days!).
"He invested great confidence in me, which in turn gave me confidence."
In the old typeset days, Ken showed her how to lay out a page and how to mark a proof, with hours spent every week "meticulously proofreading pages".
"In the weeks running up to Monmouth Show, we spent hours proofreading the show catalogue," she added. "It was a laborious task, enlivened by our hilarious attempts to pronounce some of the pedigree names of the cattle, sheep and goats. Show Day, then held on Vauxhall fields, was a long and hectic day but we divided up the tasks - Ken recording the results in the cattle, sheep, horses and goats' sections, while I covered the produce, handicraft and horticultural classes, plus dogs and caged birds.
"Ken was scrupulously fair and impartial. He was always quick to support me if he felt I had been unfairly criticised but his tolerance must have been sorely tested when I rang him on a Sunday night to say that I had mistaken the date of my holiday and was supposed to be in Devon the following week.
"After only the briefest of pauses, Ken said go ahead with your holiday. He often loved to tease me about that one!
"Working together for so many years, we saw many changes - full page adverts disappeared from the front page, colour photographs replaced black and white, typewriters were out and computers in (a difficult transition for both of us) and the paper changed from a broadsheet to a tabloid.
"The biggest change was the transfer of ownership to Tindle Newspapers and the move from the rather dilapidated offices at Number 50 to the beautiful Grade II listed premises at Cornwall House, which were opened by Princess Margaret in 1987 to coincide with the Beacon's 150th anniversary.
"As a Monmouth boy, Ken had a deep knowledge of and affection for the town, which was reflected in his role as editor.
"After he retired, we kept in touch and met up from time to time, enjoying the opportunity to reminisce over old times. I remember when Robert (her husband) and I got together for a drink with Ken and Angela prior to our wedding in 2007, Ken quietly took Robert to one side and said "Look after Mary, I am very fond of her.
"And I was very fond of Ken too."
Like Sir Ray, Ken believed in 'feet on the ground' local journalism, engaging with the community and covering everything from Mothers' Union meetings, ploughing matches and weddings, to Royal visits, local crime and court cases, plus all the goings on of councils, societies, and groups.
After winning a scholarship to Monmouth School, Ken's career at the Beacon started as an 18-year-old trainee in 1949 and lasted until his retirement in 1999, interrupted only by National Service - where he encountered the likes of Field Marshal Montgomery while based at Army HQ in Fontainebleau, France - and a short stint on the South Wales Argus, as the daily's Monmouth correspondent.
In 1963, Ken dashed back from lunch to the newspaper's offices and print works in Market Hall to find them engulfed in flames, after a fire had started in the paper store. The building was destroyed but the staff still kept the paper going, moving the whole operation to 50 Monnow Street in time to report their own devastating loss.
Monmouth through and through, he was born at the girls' school's Lodge in December 1931, and was still living in the town's Hereford Road when he passed away on Saturday, January 30, at the age of 89.
Made editor in 1965, Ken was later joined on the paper by wife Angela, making it a family affair.
At Ken's retirement party in 1999, which was also attended by Monmouth's then town mayor Eileen Goodrich, Sir Ray paid a heart-felt tribute to the longstanding editor, describing their relationship as "an absolutely splendid one which I shall always treasure."
A highlight of his career was hosting Princess Margaret's visit to the Beacon offices on July 28, 1987, to celebrate the paper's 150th anniversary, when the Royal presented him with a silver salver to mark his long editorship.
When he left the paper, which was founded in 1837, Ken recalled: "I was born in Monmouth and have never strayed far, having had the good fortune to get so soon in life a job in which I have been very happy."
During his career, he saw off some 2,500 editions of the weekly, and admitted: "It has been arduous at times, worrying at times and stressful, especially late on a Tuesday when you realise you have not got a lead story."
The paper was an eight-page
broadsheet with only adverts on the front page when Ken first joined in 1949 just four years after the end of the Second World war, and he recalled the publication of the first ever wedding photo in the paper as "a long-winded affair as the photo had to be sent to Bristol to be made into a printing plate!"
By the time he retired the new technological digital age had arrived, making things almost instantaneous, but he said the joy of local journalism remained the same.
"There is always something different going on, so you have no time to get bored," he said.
"Even the bread and butter jobs are different, and sometimes there is the jam, like a week in Israel as the 'Tindle travel correspondent', a few days at sea with HMS Monmouth on a battle exercise, a few days in Edinburgh with the TA where the commanding officer gave me the delight of going anywhere, even on the parade ground to take pictures, much to the dismay of the RSM, and then there was the ride in the London and Brighton rally, courtesy of Sir Ray."
There were occasional hiccups he admitted, though.
"Once I sat in the office knowing the phone was about to ring after we printed that the bride had a headdress of 'white lice'.
"Another time we said Monmouth School rugby players looked fine in their new 'skirts'. But thankfully I spotted and pulled out the typo that said the chairman of the council had been 'pickled' rather than 'picked'."
Another to be caught in time included a policeman's court evidence that cases of indecent exposure "tended to drop off" in winter, while the archdeacon was spared being called 'archdemon'.
But there was a bit of a 'pew' over the friends of the parish church orchestra's announcement of their 'cheese and wind party'.
Away from work, Ken enjoyed gardening and was secretary for Monmouth Conservative Club for many years and also the Old Monmothian Club.
Due to current circumstances, there will be a private funeral.
Comments
To leave a comment you need to create an account. |
All comments 0