Mawr power wins the day, but more to come from young side
Thursday 28th April 2022 4:00 pm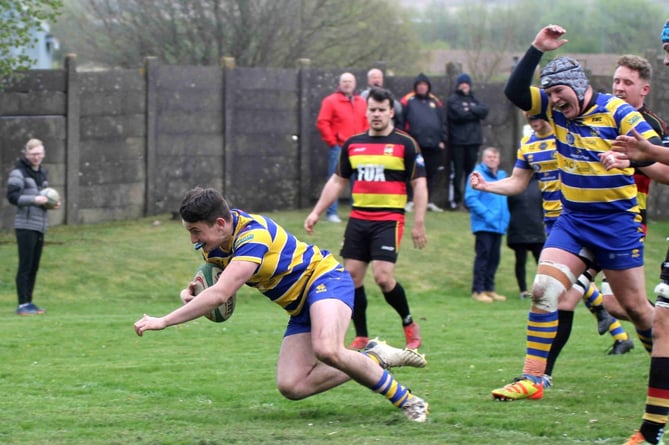 Wing Richard Jones crosses for his first Monmouth try and the teams 2nd v Brynmawr
(Gareth Roberts )
Subscribe newsletter
Subscribe to our email and get updates right in your inbox.
Third-placed Brynmawr eventually beat Monmouth on Saturday, but not without a scare or two along the way, reports Pete Walters.
The hosts began the stronger, putting their visitors under a great deal of pressure from the off with some penetrating midfield charges and worryingly missed tackles by the visiting three-quarters.
Fly-half Harry Johnson could be relied upon to regain territory with his thunderous punts on the gusting wind, but the hosts were equally happy trying to pen the visitors back with high box kicks.
The home forwards were also somewhat larger and seemingly more experienced and soon showed how they could drive a maul, albeit slightly downhill, over some 30m, saved only by a penalty to the defenders which Dan White took quickly to regain ground lost.
In no time, White was at it again with an outrageous dummy to wrong-foot four players, only for play to be called back for 'crossing'.
Brynmawr's defence was comprehensive but a tackle by centre Morgan Jeffs outshone all thus far, shaking his opposing centre to his toes whilst preventing a probable try.
But the pressure was sustained by the hosts and following a scrum and a miss pass they were clean through for their first score by Mitchell Rankine bang on 20 minutes played.
The conversion was whisked away by the wind to keep the score to 5-0.
That same wind then enabled a deep drop-out with ever mobile second row Geraint Powell up to tackle the catcher deep in Brynmawr's 22.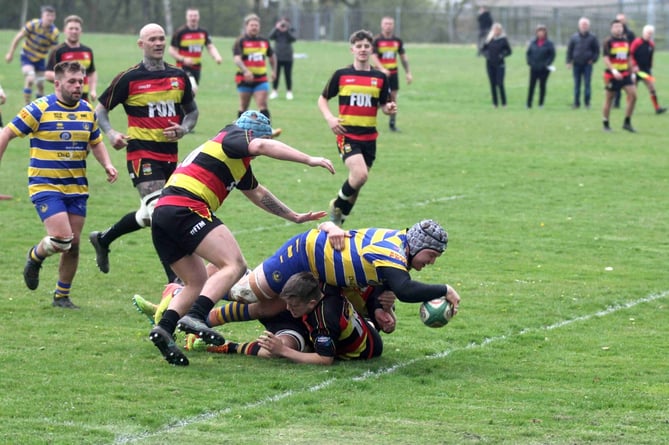 Will Korb crosses for Monmouth's first try
(Gareth Roberts ) (Gareth Roberts)
Play paused for a departure for a head injury prior a combative to-and-fro period until the host left wing made a breakaway run of some 50 metres saved only by a penalty at the ensuing tackle to Monmouth.
Fleet of foot right wing Rankine then showed his skills again beating two potential tacklers on the outside to score a second try, but again the wind prevented any added points.
The score stayed 10-0 until half-time, despite wing Chris Reed making ground with a good break, the home No 8 leaving the field due to injury and the substitute home centre showing off his fearsome jinking skills despite his bulk.
The interval, as usual, perked up Monmouth enough for them to move the ball wide to both sides of the pitch before back row man Will Korb crashed over just two minutes after the kick-off.
Johnson gauged the wind well to narrow the deficit to 10-7.
Monmouth now began to show their scrummaging strength despite the imbalance in weights.
And after a dominant set piece, Johnson used his strength in running and handing off to break tackles for wing Rich Jones to take them into a 12-10 lead with the No 10 thwarted by the allowed-for wind disappearing as he kicked the conversion.
The referee by now was flagging somewhat at the pace of the game, and sadly some impolitic barracking of poor decisions on his part seemed to turn his mind somewhat, as the decision making appeared to worsen as the game went on to Monmouth's obvious disadvantage at times.
Brynmawr were fighting back well and it took two fine tackles in the corner to thwart long distance breakaway tries. But the pressure was on.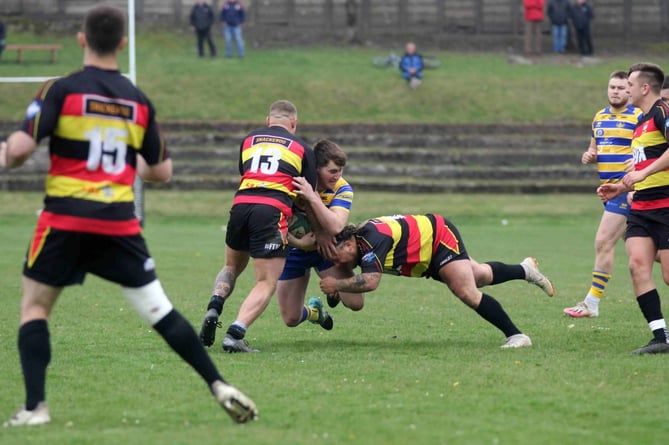 Morgan Jeffs taking up the Monmouth attack
(Gareth Roberts ) (Gareth Roberts)
Maul after maul was held up on or over the line, but the advantage was strangely given to the attacking side with 5m scrums.
After around five such occasions in quick succession, the inevitable change of lead transpired as Josh Congreve went over and Liam butler converted to make it 17-12 with 15 minutes to play.
Despite fighting hard, Monmouth were to go further behind as Brynmawr used their well practised ability to spread the ball quickly to the wings where they had real gas to spare, Joel Amphlett scoring out on the right this time for a 22-12 lead.
Substitute prop Tom Green used his bulk to barge through in midfield in response and from the ensuing ruck a long pass found Chris Read on the right wing to put Monmouth in range of a losing bonus point at 22-17 in the first minute of injury time. But it was not to be.
A penalty award to Brynmawr was confronted inside the requisite 10 metres and from the re-start Brynmawr's Scott Gibbs burst away in a solo run to seal a 27-17 victory.
Monmouth's final game leaves them 10th after a season which has steeled the young players to do even better later in the year when the slate will be swept clean and all will be to play for again.
If they can play as well as they frequently have in the second half for the full 80 minutes they have much to look forward to.
Meanwhile, Usk host Abertysswg in a second v third final game of the season this Saturday (April 30) in League 3 East A.
Comments
To leave a comment you need to create an account. |
All comments 0