Young explorer makes a difference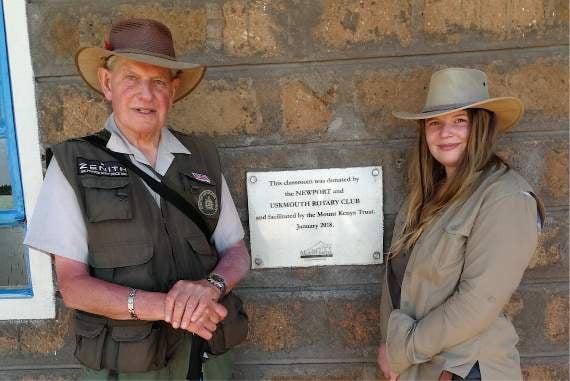 Charlotte Austwick with Colonel John Blashford-Snell
Subscribe newsletter
Subscribe to our email and get updates right in your inbox.
AFTER returning from a trip to Kenya the world must seem smaller for Monmouth's Charlotte Austwick then it does for most people.
The 25-year-old filmmaker and explorer has already spent time in the in the Arctic with the British Exploring Society and the jungles of Belize but most recently she joined the Scientific Exploration Society in Kenya.
Miss Austwick was part of a humanitarian aid and wildlife conservation expedition led by renowned explorer Colonel John Blashford-Snell (OBE) which worked with the Mount Kenya Trust.
There she was involved in a range of tasks helping both the local environment and people.
She said: "We helped at El Karama reserve, they have a lot of conservation projects so we got involved in the great Grévy's zebra rally where we had to identify all of the zebras on the reserve.
"The Grévy's Zebra is an animal they think will become extinct. Two years ago they had 18, and this year they had six and we had to survey 14,000 acres to try and find them.
"We helped survey the elephant corridor, and an elephant escaped and actually was in a neighbouring field to our camp so we had no barrier between us and the elephant.
Miss Austwick also worked on a new building at Nkiria School, she said it was wonderful to see the work they did actually contribute to the children's education.
She said: "That was amazing, they had 800 children in the school and they were being taught in tin shacks, and this was a concrete classroom.
"They invited all the parents to the opening with the children at this huge event and they sang songs for us and we also gave them school books. The classroom was also funded by Newport Uskmouth Rotary Club."
The adventure doesn't seem to stop for Miss Austwick who is already planning a trip to the Peruvian Amazon to work with Macaw research scientists.
Then in late 2018 she is planning an expedition to climb Mount Kilimanjaro to bring awareness of skin conditions and mental heath for which she is looking for sponsorship.
But in her time spent at home in Monmouth she hopes to inspire others into joining the field that has taken her around the world.
She said: "I have organised a lecture series in schools encouraging people to get involved in exploration and the natural world and how important geography is as a subject. So if any schools want to get in contact with me about organising a talk I'd be happy to do that."
To contact Miss Austwick about her talks or upcoming expedition email [email protected]
Comments
To leave a comment you need to create an account. |
All comments 0