Election shock for Tories as Labour celebrate result
Wednesday 18th May 2022 4:00 pm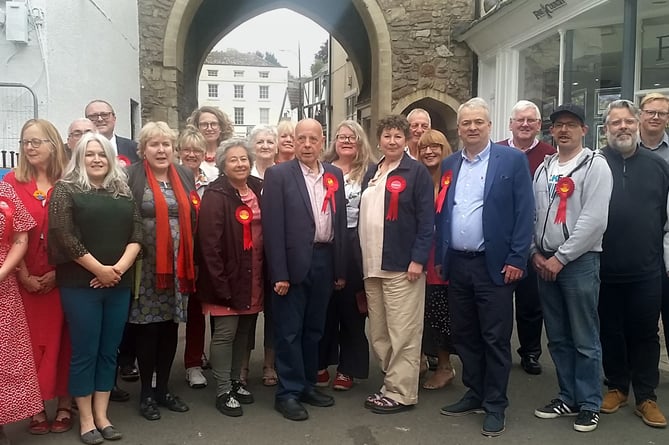 Labour county councillors celebrate their election success Picture by ANDY SHERWILL
( Picture by ANDY SHERWILL )
Subscribe newsletter
Subscribe to our email and get updates right in your inbox.
Conservatives in Monmouth received a bloody nose in the local elections on Thursday while Welsh Labour were celebrating after chalking up their best election result since 1995.
The Conservatives who had the ruling vote on Monmouthshire County Council before the election on May 5 had their majority cut from 25 seats to 18 losing out to Labour who gained 22 seats, an increase of 12.
And part of the blame for the party's poor showing was laid at the door of the antics in the UK parliament by Prime Minister Boris Johnson.
In Monmouth one of the biggest shocks was handed out to Welsh Conservative Mat Feakins, who lost his seat to Labour's Catrin Maby in his former ward of Drybridge.
Mr Feakins is a former mayor of Monmouth and was chairman of the county council and the shockwaves continued to hit the party with respected Conservatives Sheila Woodhouse and Jane Pratt, who was a cabinet member, also losing their seats.
Speaking after the election results were officially announced at the count in Chepstow leisure centre on Friday, Conservative group leader Councillor Richard John said: "It has been a difficult day.
''What I have heard from voters on their doorsteps is that they have valued the work done by our council, and have recognised our work on issues such as climate change, better pay for social care workers and improvements on leisure facilities for children.
''However what I have also heard is that voters are frustrated with national issues concerning the Conservative government.
"The public have sent a very clear message throughout the UK, that the Conservative party have to reflect upon."
Peter Fox, Senedd member for Monmouth, himself a former leader of MCC was also present at the election count. Mr Fox was a councillor for Portskewett under the Conservative administration, but he decided against standing for re-election although the ward remained Conservative as the seat was won by Lisa Dymock.
Reflecting on the overall performance of the Conservative party, Peter said on Friday: "Today has been a bitter blow and I'm disappointed with the outcome. It is also a bitter-sweet day for me.
''I finished my career on the council and am sad to be leaving but I am very pleased Lisa has taken on my seat and know she will do an amazing job for the people of Portskewett.''
While the election was viewed as a grim day for the Conservative party it was good news all round for Welsh Labour in Monmouthshire who are celebrating after having their best election result since 1995 and winning the biggest number of seats in Monmouthshire.
Labour won 22 seats, an increase of 12 whilst the Conservatives lost 12, meaning the Tories have lost control of their only council in Wales.
Monmouthshire Country Council is now the first council to have a 50:50 gender balance, thanks to a target set by the last council.
Welsh Labour in Monmouthshire now has 22 councillors - over 47 per cent of the council.
Mary Ann Brocklesby, who is leader of the Labour Group, taking over from Dimitri Batrouni who stood down from Monmouthshire to stand in Newport said: "This is an exciting day for Monmouthshire. We have run a dynamic, positive campaign based around local issues and we are delighted to be the largest party in Monmouthshire.
''Time and again residents told us on the doorstep that they wanted change, that they didn't feel they were being listened to and that they felt let down.
''We will now work hard to build a stronger, fairer, greener Monmouthshire that strives to protect residents from the cost of living crisis and deal with the climate emergency.''
Comments
To leave a comment you need to create an account. |
All comments 0