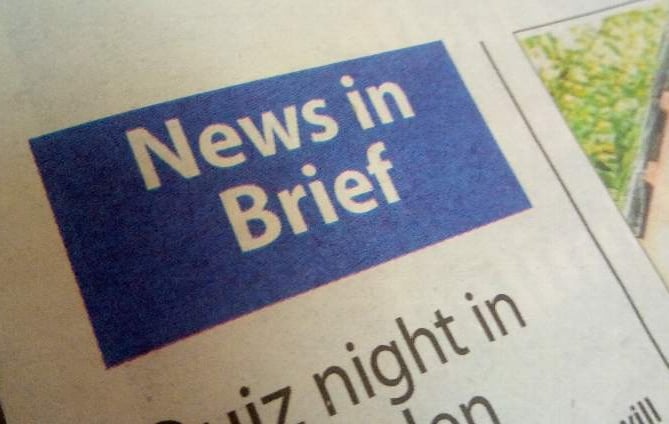 Subscribe newsletter
Subscribe to our email and get updates right in your inbox.
All the news in brief articles form this week's Beacon.
?Monmouth shoppers more thrifty than most
A RECENT YouGov survey has revealed that 63 per cent of British people have purshased second hand clothes, the Beacon survey its readers on social media to find ouy whether Monmothians fit the norm.
From a survey through the Beacon's Twitter account (@MonBeacon) it was revealed that 50 per cent of readers polled said they have bought a lot of clothes from Monmouth's chairty shops, with 33 per cent saying they have purshased a few items - 83 per cent in total.
Only 17 per cent of respondants said that they have not purchased any.
Nationwide, the most common reason shoppers say they choose second hand is down to saving money (67 per cent), then to support charities (40 per cent) with environmental reasons coming in third. However, people with more second hand clothes tend to put more importance on the environmental reasons.
Kath Beavis is back on the scrounge for Llamau, the charity for homeless and disadvantaged children which the people of Monmouth have supported for many years at Christmas and Easter with chocolates for the children who look forward to getting a present. She is asking for the usual Cadburys Christmas selection packs (not the boxes). Drop off points are Bridges shop on Monnow Street and Bridges Community Centre by December 13.
The green spaces group of Action on the Climate Emergency (ACE) Monmouth will be meeting on Thursday November 25 to plan for future planting schemes. The meeting will discuss the MCC led community nature spaces around Rockfield, Goldwire Ln and Hendrew Cl; plans for the old site of the Chippenham Field site, tree planting on Vauxhall and the management of the Two River Meadow. Those wishing to get involed are asked to get in touch at [email protected]
Devauden Village Hall will be hosting a quiz night this Saturday (November 20).
Doors open at 7pm and the quiz starts soon after. Entry is £5 which includes a ploughman's supper. Organisers recommend people come in teams of four, and a raffle and licenced bar will be there.
The quiz will be held in Devauden Village Hall, up-to-date details will be available on the Devauden village website, devauden.org uk.
Parkinson's UK is a charity which works towards finding a cure, and improving the lives of everybody affected by Parkinson's.
The Welsh Blood Service will be at Monmouth Comprehensive School next Wednesday (November 24) and are taking bookings.
Apointments can be made via their website wbs.wales/MonmouthComp.
The Welsh Blood Service cover the whole of Wales. They collect blood donations from the general public which are processed and tested before distributed to hospitals where they support patients.
Mitchel Troy's regular coffee morning will be popping up at the village hall this weekend (November 20).
All are welcome for a chat and a cup off coffee, traditional or herbal tea, fruit juice, all with a slice of delicious homemade cake for just £2.50.
Tintern village is on the look out for volunteers to form a one-off carol group to sing at the Christmas Eve service at St Michael's in Tintern on Friday, December 24 at 5pm. A small number of informal rehearsals will be held in December for any interested singers to practice. For information contact Ric Staniforth on 01291 680479 or email on [email protected].
Wyesham tuck shop Springdale Produce dropped the prices for all their cakes on Remembrance Sunday, offering up free cakes to all of their customers for the day.
They were accepting voluntary donations to support the British Legion and Help for Heroes.
Comments
To leave a comment you need to create an account. |
All comments 0