Super hospital opening left doctors 'scared to work'
Tuesday 2nd November 2021 11:00 am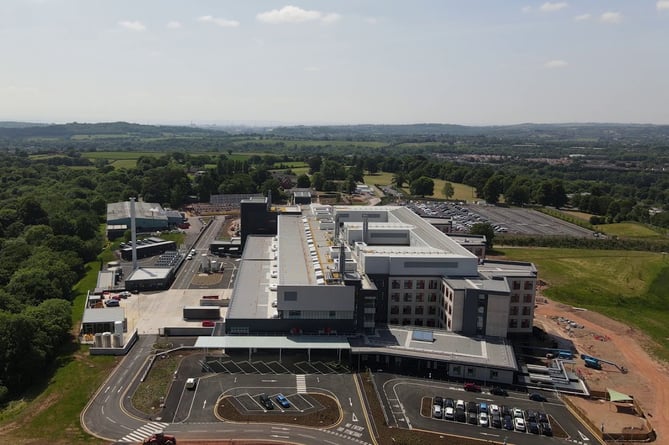 Subscribe newsletter
Subscribe to our email and get updates right in your inbox.
TRAINEE hospital doctors and consultants were "scared to come to work", says a scathing new report, with the push to transfer specialist services to the £358m Grange 'super hospital' last year described by a senior doctor as "complete madness".
According to BBC Wales, "almost all" trainees quizzed by the Royal College of Physicians said they wouldn't want to return to work for the Aneurin Bevan University Health Board.The report highlights "frightening experiences" faced by staff, including having to cope with serious medical issues with limited diagnostics and technology at Nevill's Hall downgraded minor injuries unit in Abergavenny.The report says there were "very serious patient safety concerns" around chronic understaffing and excessive workloads at the new hospital, which opened in 2020 to replace critical care and specialist services at Nevill Hall and the Gwent in Newport, and serves the whole of Monmouthshire and beyond.One trainee blasted the current health board model as "extremely inefficient", with patients being repeatedly shifted between sites and wards.A spokesperson for the ABHB said the report was made following the worst of the pandemic, which had "significantly disrupted the delivery of our health services", but took the findings very seriously.According to BBC Wales, the report says trainee doctors and consultants feared they could lose their licence to practise, while the workload left some senior medics demoralised and close to leaving.Dr Olwen Williams, Wales' vice president of the Royal College of Physicians, said: "This was a difficult visit, with some powerful testimony."The new clinical model sees both the workforce and patients moving between multiple sites. Where three hospitals once struggled with recruitment, now there are four sites with rota gaps."The report said this contributed to a gap in general medicine at the Grange, hitting treatment for older patients and those with more complex general medical needs.With specialist services switched to the Cwmbran site, trainees were still left to deal with serious issues at Nevill Hall and other units.One trainee told the RCP: "On one overnight shift, I treated a four-year-old with seizures. The ambulance took six hours."Colleagues treated an 18-month-old with burns. Lots of kids come in with respiratory distress. Paediatric cases are not uncommon."We've treated stabbing victims. Colleagues delivered a baby earlier in the minor injuries unit. These things shouldn't happen at all."Another added: "There's so much patient movementâ?¦ I recently sent someone from Nevill Hall to the Grange to get a scan, then to the Gwent to get a follow-up procedure, then back to Nevill Hall."That's three bed moves, three ambulance crews and three medical people dealing with the same patient. It's extremely inefficient."One said patients had "been moved eight times" between different hospitals and wards, including "90-year-old patients with dementia," while another added: "I worry about the safety of the patients coming into this hospital."Another trainee said: "We were projected to cover 190 beds, but we were covering 300 and 400 medical beds. Those numbers still haven't come down."One said: "I think a lot of people are afraid of losing their GMC number, because at some point, something bad is going to happen."It won't have anything to do with your abilities as a doctor, it's just your bad luck if you're on that shift."A consultant also said that around 60 doctors wrote to ABHB to raise concerns ahead of the opening of the Grange "but they just weren't listening"."There was this almighty push to open the Grange come hell or high water. It was complete madness," he said.More than 30 consultants and some 50 trainees and physician associates joined a virtual visit by RCP members in June.And RCP president Andrew Goddard said: "During our virtual visit some trainees told us that they were scared to come to work, in case they lose their GMC [General Medical Council] number."In my eight years at the Royal College of Physicians I've visited hundreds of different hospitals - and I had never heard that before."Responding to the report findings, ABHB medical director Dr James Calvert said the health board was working to ensure experienced staff are available to deal with "really difficult situations", so trainees do not have to cope with the "significant emotional" toll.Staff shortages are being addressed, he added, with interviews for 21 junior doctor positions starting this week."We are listening to our staff to ensure the best service to patients, whilst also maintaining the wellbeing of our clinical teams," he added.On Friday (October 22) Peter Fox, the Member of the Senedd for Monmouth and Shadow Minister for Finance, demanded urgent action to address the huge burdens facing the Grange Hospital.Last week, the Welsh Government Minister for Health, Eluned Morgan MS, gave reasons for why the Grange Hospital is facing huge problems, such as understaffed departments.One reason Ms Morgan gave was "the local population are accessing the hospital in a different way from the way that was envisioned".But Mr Fox said residents should not be blamed for the current situation at the Grange Hospital.He said: "Firstly, I acknowledge that the Grange Hospital opened at an incredibly difficult time, mainly to help mitigate the increasing pressures of Covid. For this, we are all incredibly indebted to the work of our talented healthcare staff."But now the hospital is being used in many ways, and not just as it was originally envisioned as a critical care unit. "It's clear that the current situation, where the hospital has the worst A&E performance in Wales as well as staff shortages, is unsustainable. ''It's vital that the Aneurin Bevan University Health Board continues to work in partnership with the Welsh Government to find a solution to these incredibly difficult problems."Solutions have to be found as it is totally unfair for the residents of our area to suffer as a result of the current situation. There needs to be a fundamental review of how the main hospitals in this region are currently working together and managing this hopefully short-term crisis."
Comments
To leave a comment you need to create an account. |
All comments 0