Monmouth says goodbye to local landmark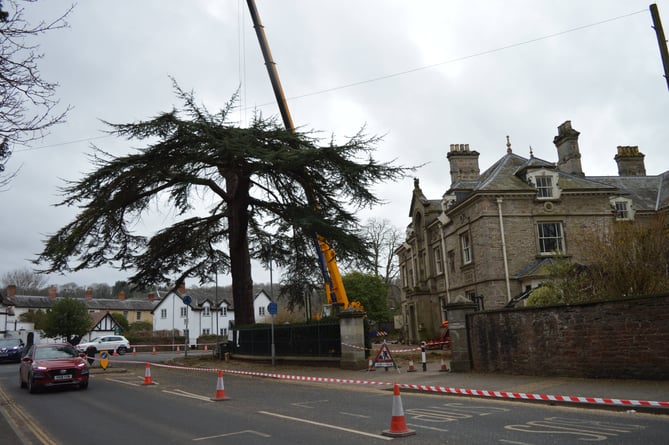 Subscribe newsletter
Subscribe to our email and get updates right in your inbox.
Staff and supporters of Monmouth's community centre sadly watched as their 250 year old cedar was cut back down to a short trunk.
Storm after storm had further weakened the tree standing outside The Bridges Centre which towered above the Drybridge Street roundabout. Several consultants were brought in to asses whether the tree needed to be cut down and all agreed it was the only thing that could be done.
Bridges director Aileen Atkinson told the Beacon that every alternative was explored before having to make the deeply sad decision to cut the cedar tree completely back to a short trunk. Not only had the storms continued to weaken it, but the concrete surrounding it had harmed its roots, and specialists diagnosed it with phaeolus schweinitzii.
She added that whilst a number of people are understandably upset at losing a 250 year old landmark, people were generally understanding and sympathetic to the difficult decision that had to be made.
Footage from outside of The Bridges Community Centre, Monmouth as the 250 year old cedar tree was being felled.
The was some disruption of traffic to protect drivers as the tree was being cut back, a three-way traffic light system was put in place rather than closing the roundabout which connects Drybridge Street to Rockfield Road and Wonastow Road.
The tree was taken down branch-by-branch over two days, with the use of a crane, in what looked like a process of it being dismantled methodically, as not to risk harm or damage.
The final stage of the cedar tree being felled.
Throughout the day many residents and passers-by witnessed the felling and many photos of the process were shared across various social media platforms.
Once the tree has been cut back to the trunk base, it will be carved into a work of art by one of the most prestigious chainsaw sculptures in the world, Chris Wood, who is famous for creating extremely elaborate and intricate carvings from tree trunks.
There are also plans in place to plant saplings in its memory. These won't be planted on the same site due to the concrete, but will likely be elsewhere on the community centre premises.
Comments
To leave a comment you need to create an account. |
All comments 0