Calls for action to solve 'death trap'
Tuesday 21st December 2021 7:00 am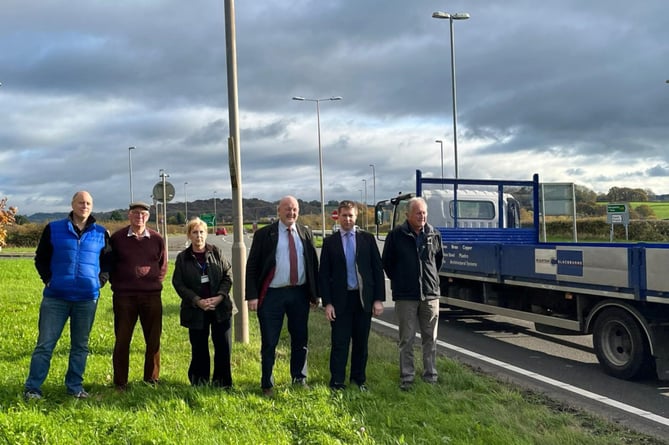 Subscribe newsletter
Subscribe to our email and get updates right in your inbox.
THE speed limit on a major Monmouthshire road needs reducing immediately before someone is killed, politicians have warned.
Recently Peter Fox, MS for Monmouth, met with Leader of Monmouthshire County Council Cllr Richard John; Cllr Penny Jones for Raglan; representatives from Raglan Community Council and Mitchel Troy Community Council; and residents of Raglan and Mitchel Troy to discuss the ongoing traffic issues on the A40 Raglan Bypass.
For decades, people have been urging for the speed limit on the road to be reduced from 70mph to 50mph.
Their urgent pleas have now been renewed ahead of the expected completion of Head of Valley's road-a main artery into England which'll cause further traffic pressures.
Mr Fox said: "This has been a longstanding concern that has escalated over recent years, and it is feared to get much worse once other roads come into full operation.
"All parties feel this is an outdated road system that is unable to safely cope with increased traffic in 2021.
"I have heard deeply concerning incidents where people could have been killed by vehicles, and, worse still, there have been recorded fatalities in the past.
"I will be writing jointly with the Council Leader and stakeholders to the Welsh Government, requesting credible action to make this stretch of road safer."
And Cllr Jones added: "The main concern of Monmouthshire County Council, alongside Raglan Community Council, is for the safety of the residents as well as the users of the A40 Raglan By-pass. And that is why the current situation is simply unacceptable.
"Residents' concerns have been ignored for too long, but we are determined to resolve this issue.
The time for words is over - we now need to see action."
The call follows on from the Beacon story last week when local councillors called for a 50mph speed limit on this route highlighted by Cllr John and Cllr Jones. Their concern is the turning off the Raglan by-pass into the central junction which requires vehicles exiting the A449 to slow down in the fast lane before turning into it prior to accessing the old Raglan to Monmouth road towards Mitchell Troy. Traffic to and from Raglan using that road have to cross over the by-pass.
Comments
To leave a comment you need to create an account. |
All comments 0