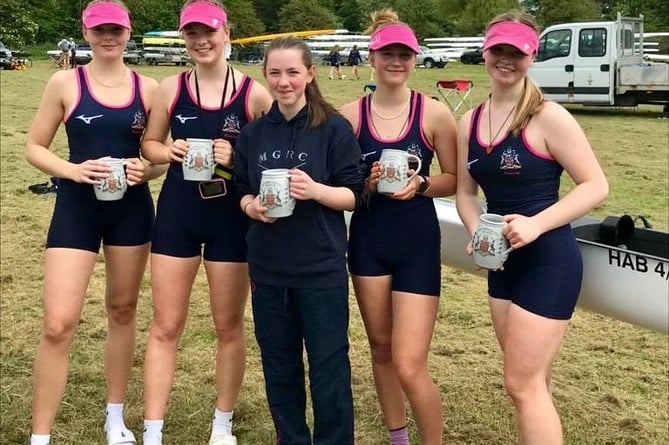 Subscribe newsletter
Subscribe to our email and get updates right in your inbox.
Wye crews headed to Nottingham's National Watersports Centre for two major regattas and came home with seven trophies.
Monmouth School for Girls' top crew proved the quickest women's four of the day at Nottingham City Regatta, taking the Band 2 title by a distance from Loughborough University.
Sophie Morrison, Maddie Bailey, Eleanor Emes, Elina Wright and cox Hattie McAninly (pictured right) also beat all the Band 1 boats as well, finishing 3/4L ahead of nearest rivals Leeds University, with Bristol University and City of Oxford crews also trailing as they covered the 2km course in 8.47.60.
The next day it was the turn of Monmouth RC's veterans at the Nottingham Masters Regatta, with no less than nine boats launching out to race over 1km on the two-time world championships course.
Mark Stewart-Woods took the prize in his E (over 55) single in a time of 4.04, winning by some 3L from his nearest Star Bedford challenger.
He then combined with club coach and Athens Olympian Tim Male to win the D (over-50) double sculls in a time of 3.47, beating City of Bristol by the same margin with Doncaster, the RAF, Nottingham RC and City of Sheffield trailing.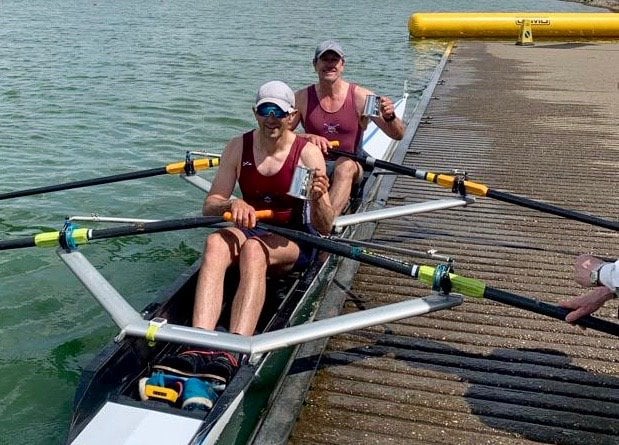 Scullers Tim Male and Mark Stewart-Woods.
(Nick Hartland ) (Nick Hartland)
Next on the water was the men's coxed D four of Matt Winters, Simon Lee, Paul Bezani, James Allison and cox Liz Lewis, who beat an experienced Notts and Union boat by just under a length in 4.03, with Notts RC and Grosvenor further adrift.
Taking part in her first ever regatta, Anna Williams then joined Sue Smith, Sara Part, Dawn Brace and cox Mary Miller in the women's C (over 42) fours final.
A great race saw them push winners Nottingham City all the way into a stiff headwind in a time of 4.45, ahead of Derby and Milton Keynes boats.
Races then came thick and fast, along with visits to the winners' pontoon.
The men's F coxless four (over-60) of Andrew Barnett, Nick Hooton, Colin Lewis and Peter Kelsall rowed down a strong Bedford RC crew to win by 2/3L in 3.47.
Louise Allison, Sue Smith, Mary Miller and ladies captain Liz Lewis matched them straight afterwards in the women's masters' C-E fours race, where they held onto their handicap head start to beat younger Cantabrigian, Newark, and Leicester/Trentham boats in 4.18.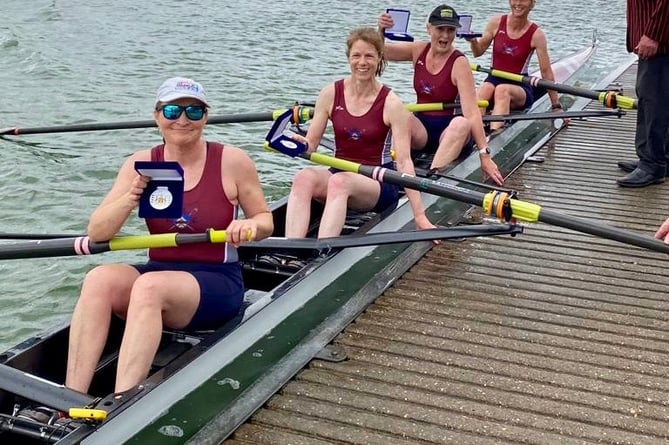 The winning women's four of Louise Allison, Sue Smith, Mary Miller and Liz Lewis celebrate at the lakeside.
(Nick Hartland ) (Nick Hartland )
The men's D crew then went out for their second race without a cox, and found the age handicap too much to make up, coming home third in 4.03 behind Bristol and Tyne crews.
Jumping out of the boat, Matt Winters then donned a lifejacket, grabbed a cox box and jumped into the Mixed 8 made up of Andrew Barnett, Nick Hooton, Colin Lewis, Jonathan Keyte, Louise Allison, Sue Smith, Mary Miller and Liz Lewis.
The crew had a seven-second head start over their much younger opposition from Bradford, and were able to stay ahead from start to finish, winning by 2L in 3.49.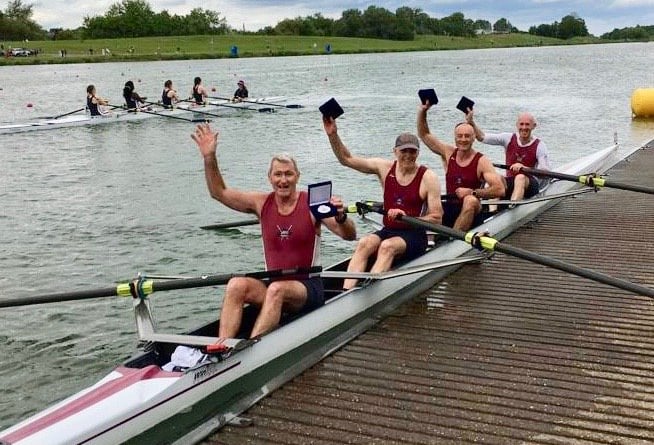 Monmouth RC's Masters F boat punch the air in celebration after victory in Nottingham.
(Nick Hartland ) (Nick Hartland)
Comments
To leave a comment you need to create an account. |
All comments 0