Oarsome Robbie powers to British universities hat-trick
Thursday 12th May 2022 6:00 am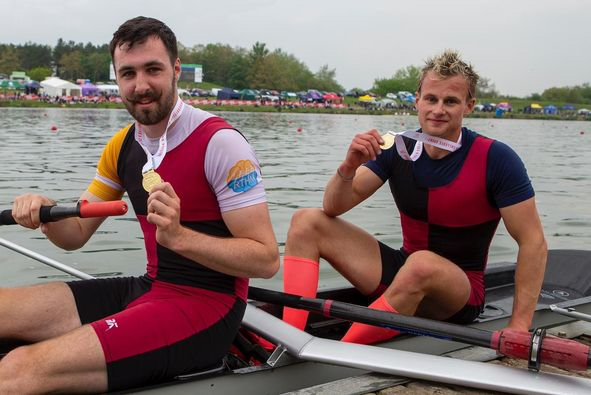 Robbie Prosser-Wrench, right, in his gold medal-winning pair with fellow Wales cap John Davies
(bucs )
Subscribe newsletter
Subscribe to our email and get updates right in your inbox.
GB U23 rowing squad member Robbie Prosser-Wrench stormed to a golden hat-trick at the British Universities and Colleges (BUCS) championship regatta at Nottingham's National Water Sports Centre.
The Old Monmothian took wins in Intermediate 8s, fours and pairs as his Bristol University club made an impressive showing at one of the nation's biggest regattas.
That included a rare victory in the 8s over the country's top club, Oxford Brookes University.
And after making the semi-final of the college fours at last year's Henley Royal Regatta he'll be hoping to go all the way there this year in seven weeks time.
In the six-boat 2000m 8s final on day one, the former Monmouth School for Boys student's boat surged into an early lead to go through half-way 1.5L up on Durham before withstanding a late charge by Brookes to win by 1L from the Oxford boat in 6.26.50.
Durham took bronze a further length back, followed by Exeter, London and Brookes B.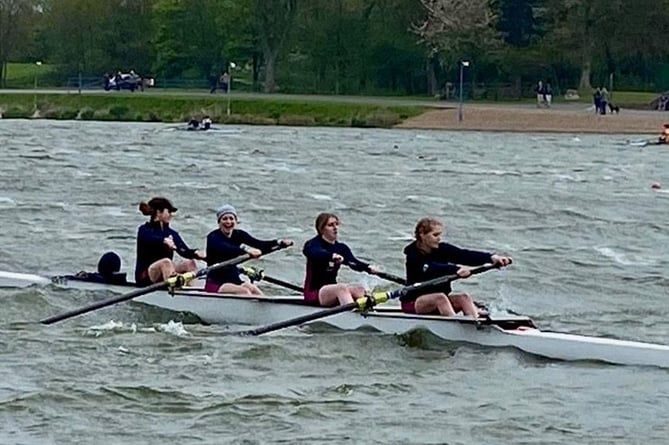 A Monmouth School for Girls boat battles the rought water
(bucs )
In the coxed four on day two Bristol again took the early initiative, blasting into a 1L lead at the 500m mark which they stretched to more than 2L at the finish, crossing in 6.45.74 with Surrey in silver and Exeter in bronze, followed by Edinburgh, Brookes and London.
In the pairs on day three with fellow Wales cap John Davies, they trailed Durham by feet at the quarter-way mark, but had forged into a 3/4L lead by half-way.
The Durham duo charged hard at the end, but Prosser-Wrench and his partner had 1/2L to spare on the line, reached in 6.58.05.
Also on the Holme Pierrepont course, Wye teenager Ailsa Whitehead battled to a brilliant bronze at the British Rowing Junior Inter-Regional Championships in rough water.
Six boats from Monmouth travelled to represent Wales and the West in the 12-team competition, which was returning for the first time since 2019.
And as well as the Monmouth School for Girls sculler taking third in the girls' U14 singles, her school mates landed two fourths in the U16 coxless fours and U15 coxed fours.
Monmouth School for Boys crews also came through the Holme Pierrepont spray to land fifth in U16 coxed fours and 10th in U15 fours.
And a composite of the boys' school, Monmouth Rowing Club and Monmouth Comprehensive School also came 10th in the boys' U16 quad sculls.
Boats in each 1km event were split into two races of six, with the 12 then ranked in time order - presumably due to the rough water causing problems staging heats and then finals, which is the fairest format.
Ailsa raced home second in her heat just 3.3 secs behind the North West sculler and 5.4 secs ahead of the Upper Thames racer.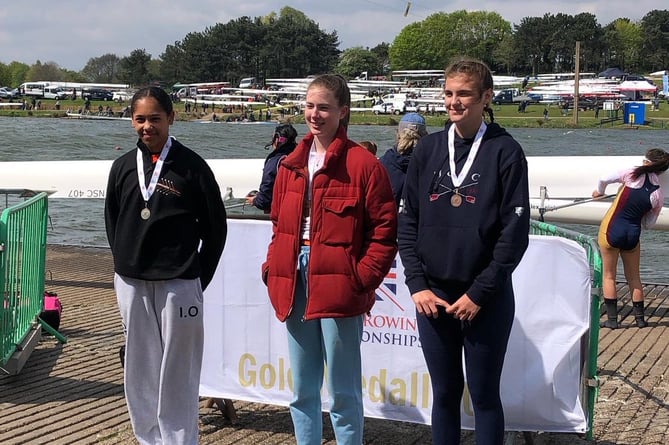 Ailsa, right, with her medal
(bucs )
Heat two saw the winning Eastern sculler set the fastest time overall to land gold, with the Wye rower taking third in her first national competition.
The school's U15 boat of Eva Hutchings, Carys Faulkner, Cerys Lewis, Hannah Jones and Hattie McAninly raced away with their heat by 13 seconds from the next placed-Yorkshire boat, crossing in 4.08.3.
But they just missed out on bronze by three seconds after the first three home in race two – Upper Thames, Thames London and North West – set the fastest times.
The Wye boat probably would have benefitted from being in a faster heat, but the format meant the luck of the draw came into play.
The U16 coxless four of Tabby Prosser-Wrench, Josie Leaf, Ellie Emes and Lauren Pritchard raced home third in 4.00.3 in their heat behind Upper Thames and Thames London, just pipping Yorkshire by 0.7 secs.
But they were narrowly squeezed off the podium by race two winners Northern by just 1.1 secs as they placed fourth.
Again it may have helped racing right alongside the bronze medal crew rather than having to effectively time-trial it.
The Monmouth School for Boys U16 boat of Will Latheron, Philip Lawler, George Whittal-Williams, Ben Holley and cox Ben Jennery raced home third out of six in their heat, pipping West Midlands by 0.7 secs as they crossed in 3.43.20 behind Upper Thames and Eastern.
The U15 boat of Ed George, Charlie Coulthard, Rufus Coker, James Loose and cox Bill Arrand came fifth in their heat in 4.16.60 to pip Northern to 10th overall.
Max Hole and Ffyn Parry of Monmouth Comprehensive joined George Coates of Monmouth RC and Charlie Freyer of Monmouth School for Boys to race the U16 quads and finished in 3.43.8 to beat Thames South East to 10th.
* Monmouth Rowing Club are looking for event sponsors for their annual two-day regatta at the end of the month, which is returning for the first time in three years.
Businesses or individuals can sponsor an event at the Saturday/Sunday May 28-29 regatta from £45 or place an advert in the programme from £65.
Comments
To leave a comment you need to create an account. |
All comments 0