Town gears up for annual raft race - first since lockdown
Saturday 4th September 2021 1:41 pm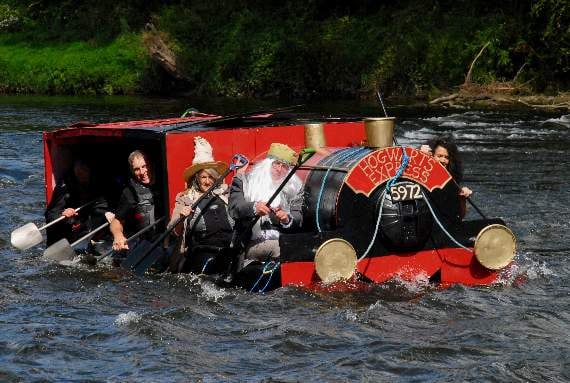 The Hogwarts themed raft on the water two years ago
Subscribe newsletter
Subscribe to our email and get updates right in your inbox.
PADDLERS will be making a giant splash on the River Wye when they launch out in the Monmouth Raft Race for the first time since lockdown.
The 55th race comes under starter's orders at Monmouth Rowing Club at 12 noon tomorrow (Sunday September 5), and will follow the traditional 6.5-mile course downstream to Whitebrook's Tump Farm, with several rapids to ride and lots of vantage points for spectators.
Among the entries will be Henson's Heroes, who always come up with a magical design and have won the best themed entry six years running.
In 2019 they put on a magical show as the Hogwarts Express, steaming downriver alongside the likes of a Mad Hatter's Tea Party, a Viking ship, a fire engine and a crew of Wonder Women.
Taking time out from Brexit and the White House, even Boris Johnson and Donald Trump put on an 'oar-some show' two years ago.
The Heroes, who come from Woodcroft near Chepstow, are a crew of family and friends who have entered every year since 2007 in tribute to family member Mervyn Henson, and have raised more than £15,000 for charity.
They took the best creatively-themed raft prize again in 2019 for their superb Harry Potter-inspired Hogwarts Express, leaving from 'Platform 9 3/4', and have been working hard on another imaginative design.
In 2018, their realistic World War 1 tank, marking the centenary of the end of the conflict, scooped the prize, and previous craft to catch the eye have included Titanic, Alice in Wonderland, Willy Wonka, HMS Victory, the Space Shuttle, Noah's Ark and a London bus.
They also won the prize for most cash raised and handed in at the 2019 race, with their £1,400 taking the total raised over the last 13 years to more than £16,000.
Crew member Vicky Henson, former head teacher of Primrose Hill CofE Primary, dressed as Professor Sprout two years ago, while others on board included Harry himself, Dumbledore,
Valdimort, Luna Lovegood and Hermione.
"We started doing the race in tribute to my father-in-law Mervyn Henson who died in 2007 and was looked after by St David's, and we absolutely love it," she said.
"We have a 'half raft race' party in March and look forward to the event all year, with two weekends set aside for making the raft, when we have a real laugh and get together.
"In 2019 we voted for Harry Potter with the local connection of JK Rowling, and when the sun's shining it's fantastic fun riding the rapids."
The race is being held again in aid of St David's Hospice Care, and charity chief executive Emma Saysell, who will be attending with deputy chief executive, Wales rugby great, Adrian Hadley, said: "Monmouth Raft Race, with its marvellous rafts and crews and the finish festival with its stands and live music is one of the best events of the year.
"What makes it that extra bit special is the inventiveness and enthusiasm of the rafters, in particular raft makers such as Henson's Heroes who create such intricate and mind boggling rafts year after year and help to raise so much money for the hospice.
"Monmouth Raft Race, staged so brilliantly by Monmouth Rotary, is a very well-loved and critical event in the St David's Hospice Care fund raising event calendar, helping to fund the continued work of our nurses and the running of hospice services provided free to all patients and families."
The event is organised by Rotary Monmouth, and spokesman Norman Williams said: "Neil Henson and Henson's Heroes are wonderful supporters of the Monmouth Raft Race who delight supporters and fellow raft crews every year with their magnificent themed rafts and the fabulous costumes that they create."
Fifty seven rafts made it to the line in 2019, with one overturning and spilling the whole eight-man crew into the drink at the rapids below Monmouth's old railway bridge.
Landy Paddlers, crewed by leaders from 1st Tidenham and Sedbury Scouts, knew they were going to get wet so opted for a 'bubble bath' raft complete with 400 white balloons.
The Monmouth Free Plastic group took their campaign onto the water, in a raft buoyed by hundreds of discarded plastic bottles.
The Monnow Vale Hospital crew from Monmouth went 'through the looking glass' as Alice in Wonderland and Co.
And six dads of Trellech Primary schoolchildren donned Hawaiaain shirts to ride HMS Hopper – a raft floating on 26 space hoppers.
Other local rafts included two from Mandarin Stone, with one crewed by Marcel Marceau mime artist lookalikes
Comments
To leave a comment you need to create an account. |
All comments 0