'River eco system is under threat from LDP proposals'
Sunday 25th July 2021 8:11 am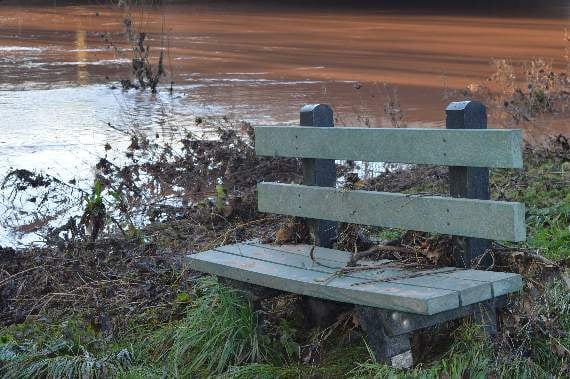 The River Monnow threatened by floods earlier this year Pic: CW
()
Subscribe newsletter
Subscribe to our email and get updates right in your inbox.
Monmouth resident Andrew Hubert von Staufer believes the county's river eco system will be harmed if the revisions to the Local Development Plan (LDP) go ahead.
In a report sent to the Beacon he says he believes the current system is deeply flawed and likely to result in further stresses to an already threatened river ecosystem.
Andrew Hubert von Staufer, is a former trustee of the Wye and Usk Foundation, have served as a representative to the Association of River Trusts, sometime organiser and volunteer with, Transition Monmouth, the Community Orchard in Monmouth, the Conservation Meadow by the confluence of the Monnow and Wye and one time Founding Vice Chairman of Wye Valley Tourism along with other environmental and social charity work.
He says: ''I have a long history of involvement in sustainable development discussions with everyone from the White House Committee on Rural Tourism under the Clinton Administration to Grupo Ornitologico Baleares in Majorca covering in particular issues of pollution, water conservation and sustainability.
''Having set out my stall, in a manner of speaking, I want to address the added environmental stress that will be placed on the Wye and Monnow confluence by additional housing development without a significant investment in water resource management, before ground is broken on any new home.
''Degradation of both the Wye and Monnow has been significant since the winding up of the National Rivers Authority several years ago and the under-resourcing of successor agencies.
''This has been coupled with local authorities caving into pressure to reassess priorities meeting impossible housing targets set by the central government.
''I would remind MCC that protection of the Wye SAC and associated SSIs within the national designation of the Wye Valley AONB does fall to the local authorities bordering this area and that they have a statutory duty to maintain standards. Plainly this has not happened in recent years.
''The current laxity in enforcement, coupled with considerable short term pressure to meet development criteria, have lagged far behind the impact of both Brexit and Covid on economic prospects.
''Housing demand has not been accelerated by increased birth rate, but by immigration, as the steadily increasing average age of the population has gone up. This has already happened in Germany whose government removed 80,000 modern homes from their housing stock and relandscaped them as parkland in 2019-20. This situation has been mirrored in Japan where the average population age is creeping towards retirement!
''With freedom of movement being constrained by Brexit that pressure has been relaxed to some extent and the onward pressures on housing stock will not be the same as before. Given the ever pressing treaty commitments to meet carbon reduction targets, all aspects of housing, from building through to heating, maintenance and services all have serious implications for meeting these targets.
''Riparian pollution is one of the indicators that current policy is failing in all areas.
''To proceed with developing a revised LDP without a serious exploration, independently conducted and peer reviewed, will be a failure. I am aware MCC has to react to current pressures, no matter how ill conceived, but that is insufficient reason to fly in the face of demonstrable current environmental degradation and pollution impact on protected species such as Allis & Twaite Shad, Atlantic Salmon, Lamprey and of course such pollution sensitive species as Brown Trout and Grayling.
''If one considers, for instance, the impact of the Rockfield development on flood defences, it is apparent that efforts to mitigate flooding events at the bottom of Wonastow Road and Watery Lane are under serious threat.
''Current modelling has been based on historical data and has not been taking account of climate change creating new scenarios that no amount of historical data can illuminate.
''Water shedding from the existing housing developments is rapid and what was previously assumed to be a once in one hundred year event has happened on several occasions. Plainly, any further building over any of the current water retention meadows must result in an increased mass flow that current infrastructure cannot deal with, resulting in discharges of raw sewage into the Wye system as was highlighted by a recent BBC 'Panorama' programme.
''It is not sufficient to point a finger at Welsh Water for sewage discharges, many of which have become almost routine, without looking at the whole pattern of development and service provision.
''Current surveys are simply a matter of GPS and laser derived coordinates and measurements. If anyone were to bring up issues of water retention or even, as was seen in recent years, the instance of an overgrown Ice Age lake beside a development, the demand would be that the objector or commentator should provide a detailed analysis that is plainly beyond their means and access to expertise. We must place the onus on the putative developer to explore all aspects and impacts of any proposed development working on the principle that the polluter pays.
''I have raised these issues in person on occasions in the past, to be told that placing such demands on developers would make any project unprofitable. Surely if addressing pollution risks is not factored into the realities of any development then it isn't' really profitable as in effect they are expecting others to pick up the bill. This cannot continue!
''We are in the current situation of bowing to unrealistic expectations from politicians anxious to address problems in the short term, in order to create favourable headlines. Basically they are behaving like indulgent parents to favoured children who do not expect them to tidy up after themselves.
''In trying to address the realities of such scenarios, local councils are caught between the Scylla of reduced government funding from above with the associated demands of providing services at lower cost and the Charybidis of ratepayers protesting at higher bills with the associated demands that the council improve the delivery of services.
''We live in a fictional world where, by some magic, we will meet environmental standards without paying for them or causing inconvenience.
''Resisting the onslaught of impossible expectations takes political and moral courage. We are teetering on the brink of disaster. As a former meteorologist I assure you that weather patterns have changed drastically since my basic training over 50 years ago. We are, in microcosm, contributing to disaster. I will finish with specific local points. Many of the houses at the top end of Hereford Road on the Buckholt side of the summit by the Royal Oak pub are on septic tanks with soakaways draining into the lower meadows. There are no available attachment points to mains drainage to serve any developments on these meadows.
''There are now algal blooms on the river Wye, caused by increased nitrate load from existing sewage, both domestic and agricultural. These algal blooms deplete dissolved oxygen and cause the release of toxic gases. There are reports of canoeists being taken ill after paddling to Monmouth down the Wye.
''I am not fundamentally opposed to development, but have seen the consequences of shortcuts based on improperly researched demographic and environmental trends in Europe, California, Egypt, Japan and here in the UK.
''We need properly assessed and real time research, evaluation, courageous decision making and putting all aspects of environmental impact at the front of all our future planning.''
MCC, both officers and councillors, need to make a stand against the developers' and central government's unrealistic demands even, dare I say, at the risk of unpopularity in the Corridors of Power and threats to future careers. I have been there, done that, written about it and was prepared to live with the consequences. Experience though has shown that most political threats are empty and the fear that developers have deeper pockets for court action against local authorities is ill founded.
The consequences of Covid and Brexit are now beginning to shake a number of economic, financial and political edifices. Few government ministers really know what they are doing, spending most of their lives playing to the media gallery. They really do not know or understand the mechanisms of local issues. Surely the local government should be prepared to take action in the interests of local wellbeing, structures and ecosystems.
There are no quick and easy answers and inviting submissions from candidate landowners for consideration in any LDP is probably the worst possible foundation for deciding how any community should evolve.
Comments
To leave a comment you need to create an account. |
All comments 0