Monmouth MP says he will not be resigning from his role in Whips office
Thursday 7th July 2022 10:46 am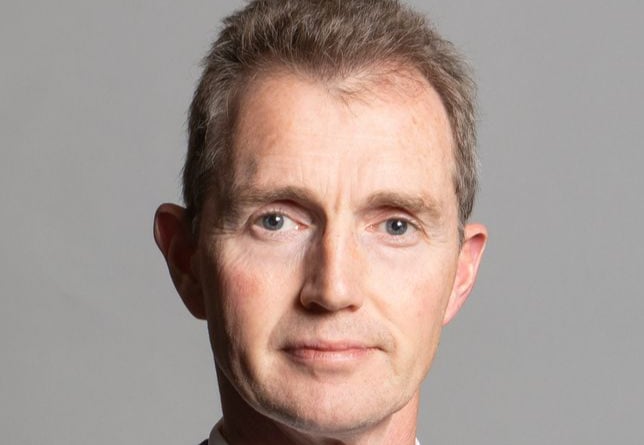 Monmouth MP David Davies
(David Davies )
Subscribe newsletter
Subscribe to our email and get updates right in your inbox.
Today, after Boris Johnson had announced he would step down as PM in the autumn, David Davies MP for Monmouth said the country needs stability.
He said: "It became clear last night the Prime Minister's position had become untenable when he had lost a significant number of the Cabinet. The support is simply not there.
''It's a shame it had to come like this, but the country has to look forward. It needs stability.
"I've known Boris since 1997 when we both stood to be MPs in Wales, and his strength is he can galvanise people, such as his leadership during the Covid crisis.
"I sat in on some of the COBRA meetings and saw him banging the table, wanting to know how we could save lives.
"But I spoke last night to Simon Hart, my boss at the Welsh Office, with whom I have a very good and close working relationship. Simon had told the PM he was going to resign and I agreed not to fill his position, and indicated that to the PM.
"Simon is an excellent middle of the road minister, very sensible and hard-working, who should not be lost to government.
"I am not resigning my position, as I have a role in the Whips office, which is part of the daily functioning of government, including the signing off of cheques. The bottom line is the country needs stability and a way of achieving stability, and that's what we will be working to do in the coming days and weeks."
Shortly before Mr Johnson announced he was stepping down as Conservative leader immediately, but would be staying as PM until a leadership election, Mr Davies told Radio Cymru's Dros Frecwast programme he needed to resign now.
The Monmouth MP said on air this morning he (Boris Johnson) 'had lost the support of senior members of the cabinet'.
"It isn't possible to function, it's clear the time has come to have someone else," he said.
Paying tribute to Simon Hart in a tweet, he posted: "It has been a privilege to work for Simon who did a great job as Secretary of State for Wales.
"We should not be in the position of losing decent and hard-working Ministers. I made clear last night that I will not take the role."
Powys Conservative MP Fay Jones also announced this morning before the news about the PM's resignation she was resigning her role as Parliamentary Private Secretary to the Leader of the House.
She told Radio Wales she "couldn't support what was going on at the moment".
The politician said: "I think this is really damaging as a party and as a country.
"I have supported the Prime Minister ever since he was elected in 2019, and he is a fantastically capable man.
"He was the only one to break the lockdown on Brexit, and his spearheading of the vaccine rollout was fantastic, but it is clear the change he promised in January has not happened
."I hoped the Prime Minister would see sense but he clearly hasn't and this is no longer a team I can be a part of.
"Ms Jones added it had been a difficult decision but one that was made much easier by the conduct of Number 10 in the last 24 hours, and said the way Ministers were hung out to dry on Friday morning after the revelations about the former deputy Chief Whip were the final straw for her.    
Comments
To leave a comment you need to create an account. |
All comments 0