Plan to put glamping pods on golf course
Wednesday 10th February 2021 10:29 am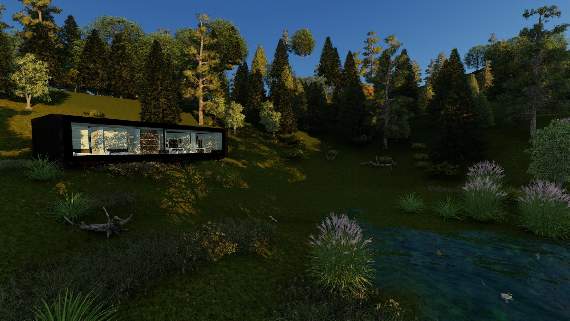 Plan is to put glamping pods on the Raglan Park Golf Club site
()
Subscribe newsletter
Subscribe to our email and get updates right in your inbox.
A CLOSED down golf course is set to be reopened as a nine-hole facility after planning permission was granted to build 15 glamping pods on land formerly used for other holes.
Raglan Parc Golf Club beside the A449 dual carriageway ceased trading in November 2018, but Raglan Country Estate Ltd has now been given permission by Monmouthshire Council planners to redevelop the 128-acre course first opened in 1994.
A report on behalf of the applicant submitted at the end of 2019 said: "Raglan Country Estates Ltd are in negotiations to purchase the site and are intending to re-open the first nine holes as a golf course for local residents and visitors and to provide 15 glamping pods on the southernmost part of the back nine holes.
"This will reinvigorate the golf course and will boost the tourism opportunities for Raglan and Monmouthshire, thus providing economic benefit to the county…
"The construction will ensure that the overall layout will be sympathetic to its setting and will assist in 're-wilding' the site from its current landscaped state so that tourists are re-introduced to nature."
The sudden closure of Raglan Parc, following behind the scenes disputes between the club and the landlords Raglan Castle Properties Ltd over a new lease, shocked members.
In a letter published on the club's website, former board member Nigel Price said at the time he was: "Personally heartbroken that our golf club, after so many years of hard work by so many of us, will be lost.
"I find it beyond belief that our landlord can be so contemptible and callous to sit by and watch us go under, after our rescuing the club and their investment, from certain closure some eight years ago."
A club spokesperson said at the time: ""Without a long lease or the prospect of outright purchase it has proven impossible for us to raise the necessary finance to continue trading through the coming winter months."
Up to 50 glamping pods were originally proposed for the new development, but the first application has been limited to 15 which will be spread out rather than grouped together.
Neighbours raised concerns about the effect on the local ecology, including rare orchids, the proximity to their properties and the possibility of noise from large groups if the number of pods was later increased.
But a report by planners recommending approval said: "The 128-acre course golf course has not been in use and is currently vacant and in need of maintenance.
"Much of the golf course infrastructure remains, but the course has not been managed since closure, although the applicants have advised that part of the original course is in the process of being reinstated…
"The pods will be positioned on wooden panels and mounting plates, stabilised via ground screws.
"They are therefore non-permanent and capable of being removed in order to reinstate the site to its former use…
"The design of the pods is contemporary and modular, there is a flat green roof and the walls along one length is glass, clear glass framed by a black painted glass, the opposite length has a black steel finish. The two-side elevations are also black steel finish with two doorways accessing plant and entrance into the side of the pod…
"The 're-wilding' of the site will… be a positive addition compared to the current use…
"The introduction of this tourism use will help to inject investment back into a currently vacant and underused site."
Comments
To leave a comment you need to create an account. |
All comments 0