Family pays tribute to 110-year-old Win, Wales' oldest person
Friday 17th September 2021 7:00 am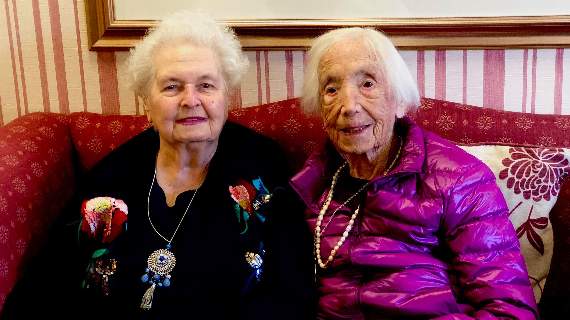 Win with her 101-year-old sister Lillian
Subscribe newsletter
Subscribe to our email and get updates right in your inbox.
TRIBUTES have been paid to Wales' oldest person - Amy Winifred Hawkins from Monmouth - who has died at the incredible age of 110.
Known as 'Win', the former dancer became a TikTok star after dancing a jig on her 110th birthday last January at her family's Hadnock Road farmhouse.
Granddaughter Hannah Freeman posted a photo of her taken weeks before her passing last Wednesday night with the tribute: "Sadly, we lost my wonderful Grandma last night at the age of 110 years 228 days, peacefully, in hospital, following a short illness.
"I know so many of you have followed her story over the past few years… she became a TikTok celebrity in January… made it to the sixth oldest in the UK and the oldest in Wales.
"This picture was taken a few weeks ago, the last before she became ill, it seems so poignant now, that she's waving."
Mum-of-one Win, who was one of seven children, lived with four generations of her family in Hadnock Road, including daughter Rozi Morris and her husband Robert, granddaughters Hannah and Tamzin and great-grandchildren Mabli and Sacha.
Mrs Morris, who was born in 1947, said: "She was a lovely lady who dedicated her life to me as her daughter."
Born in Cardiff on January 24, 1911, more than three years before the outbreak of the First World War, Amy lived most of her life in Newport.
But her local links included meeting future husband George Hawkins on a "blind date" at Tintern Abbey, where she had the "magical experience" of watching the harvest moon appear through the round window, and living in Aylburton in the Forest of Dean with her daughter in her 90s.
King George V had just taken the throne before her birth, and she was the last surviving person in Wales named on the 1911 census.
One of seven children born to Alfred Evans and Maud Evans neé Bryon, her earliest memories were of growing up in the Newport docks area, and included the Armistice Day celebrations, horse drawn carriages and a terrifying encounter with dock workers carrying machetes in the 1919 Race Riots.
Amazingly, the zipper, bra, tank, crossword puzzle and passenger aeroplane hadn't even been invented at the time of her birth, while as a child she remembered waving the troops off from Newport Station in the 1914-1918 conflict.
She trained as a dancer as a youngster, and toured across the country starring in productions and pantomimes with her troupe 'The Eight Stellas'.
Later she became a window dresser, winning several prizes while working for The Great Universal Stores.
She enjoyed holidays to Weston-super-Mare and charabanc trips to the Wye Valley, where she met her future husband George.
"Always extremely fashion conscious, while courting her husband-to-be she could often be seen riding on the back of his motorbike wearing grey flannel trousers which she would hide from her mother and change into before starting her journey – trousers were just not deemed ladylike," said Hannah.
Amy wed George in 1937, two years before the outbreak of the Second World War, when Amy signed up as a fire watcher in the ARP.
"She remembered many of the bombing campaigns which caused considerable damage to Newport - one night in particular saw a whole street razed to rubble with many civilian losses," added her granddaughter.
Her interests included gardening, baking and jam-making, and food writer Hannah added: "Her Welsh cakes and fish and chips were the stuff of family legend."
Widowed in 1996, Amy later joined her daughter and son-in-law at their Aylburton home before the family moved to Monmouth.
Last January on her 110th birthday she raised a glass of bucks fizz to her amazing achievement, which included being half of one of the oldest surviving pair of siblings in the UK with 101-year-old sister Lillian Thomas.
Daughter Rozi said at the time: "She sang a bit of It's a Long Way to Tipperary on the big day and did a bit of a jig in the chair, and her great-grandson Sacha filmed it and put it on social media, and something like 25,000 people have watched it already.
"She's wonderful and we're all very proud of her. It's an incredible achievement."
Amy, who was given a suffragette brooch by her mother for her 21st birthday, always voted and amazingly even went to the polling station two years ago to cast her vote (for Labour).
She put the secret of her long life down to "eating lots of butter, leaving the fat on meat and minding my own business."
Comments
To leave a comment you need to create an account. |
All comments 0