Lockdown gives family business unexpected boost
Monday 17th May 2021 8:51 am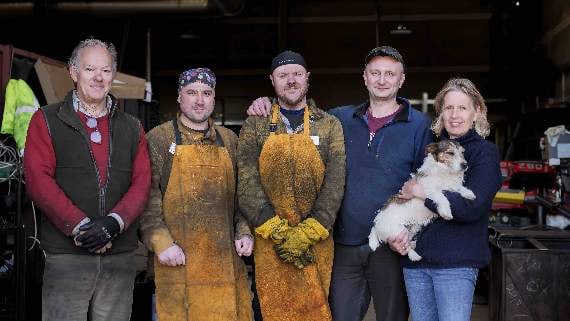 Tim, Emma and some of the team
()
Subscribe newsletter
Subscribe to our email and get updates right in your inbox.
A FAMILY-run business has seen sales of their outdoor fire pits soar in the last year due to more people spending time at home in their gardens during lockdown.
Local business Firepits UK has had to employ new staff and purchase new equipment to cope with a huge increase in demand for their fire pits, having initially furloughed staff and closed their workshop at the start of the first lockdown last March.
The company, which is based near Raglan, was started by husband and wife Tim and Emma Ross in 2014 after Tim had made a fire pit for one of their son's parties to "keep the teenagers out of the house".
Not only did it have the desired effect, but everyone who came to the party wanted a fire pit and their business was born.
The pair have since expanded their range of fire pit designs, which vary from classic to contemporary in style and are made from locally-sourced materials at their Monmouthshire workshop.
Up until the outbreak of Covid-19, a huge part of the business's promotion had been taking stands at events across the country such as Chelsea Flower Show and Badminton.
In the first lockdown last March, all such events were cancelled and retailers that they usually supplied were shut down.
Tim and Emma took the decision to put most of their staff on furlough and virtually closed the workshop.
But the pair were unaware at the time that sales were about to take off, with more people looking to enjoy their time at home in their gardens during lockdown, and later, to socialise outdoors with friends and family in line with Covid guidance.
"We really did think the first lockdown was going to spell total disaster for our business, but we've been one of the incredibly lucky ones who had the right product for people stuck at home with nothing to do", Emma said.
A few weeks into lockdown, Tim and Emma had to bring their team back from furlough and even had to hire new staff to meet demand.
Luckily, the pair had decided to invest in a specialist machine to spin their own bowls for the fire pits rather than relying on buying them in, meaning they were in charge of production from start to finish.
Tim quickly had to become a trained mechanic on this "very complex" piece of equipment, as the only other person able to work on it was based in Manchester and was unable to travel due to restrictions.
One of the many challenges faced by the business as a result of the pandemic was the worry of Covid cases amongst staff in the workshop, but the team luckily managed to avoid it completely.
Another "trivial" challenge was the struggle to find a reliable supply of cardboard boxes, which became a "hot commodity" at the start of the pandemic with online sales booming.
They also found that couriers were overloaded at Christmas and often failed to turn up to collect their deliveries, at which point Tim set about loading up a horse box, normally used for carting fire pits to shows, and delivering them himself.
While other companies ran into problems with sourcing goods from overseas, the company was able to keep manufacturing throughout the year as all of their fire pits are made from Port Talbot steel and are hand-forged in their Monmouthshire workshop.
Their British-made approach has also played up to the "increasing trend" of buying local and has allowed them to avoid any issues concerning Brexit, and more recently, the Suez Canal crisis.
"Our customers really value that our fire pits are handmade here in Wales, and even the steel is Welsh!" Emma continued.
Sales are continuing to soar as restrictions ease, with customers aware that holidaying is likely to be a more local affair this year.
Emma added that people seem to have realised that "it doesn't have to be the perfect weather to enjoy being outdoors."
"I think we've all toughened up a bit", Emma continued, "I don't think people will bat an eyelid at putting on an extra jumper in order to sit outside on summer evenings after having had to endure sitting out in the bitter weather over the past few months!"
Another trend the team have noted has been an increase in the number of people interested in cooking over a fire.
Emma explained: "Our fire pits have always been designed for cooking as well as warmth but it really feels that people have got the bug for cooking outdoors over a wood fire.
"Perhaps it's feeding a primal instinct to gather with loved ones and cook among the elements".
They have had reports of customers cooking Indian feasts, Welsh cakes on St. David's Day and even their entire Christmas lunch on their fire pits in the last year.
The company has also been working with fire cook Genevieve Taylor, who runs the Bristol Fire School and has published a number of books on the subject.
''We wanted to work with someone who is a master at fire cooking to show our customers just what can be achieved on their fire pit" Emma added.
"Gen did a fabulous Instagram video of her cooking on one of our huge fire pits with three swinging BBQ arms and someone commented she looked more like a DJ at her decks!".
The team are also hoping to work more with local chefs who enjoy cooking over fire.
*This story first appeared in the Monmouthshire Beacon on May 12*
Comments
To leave a comment you need to create an account. |
All comments 0