Baby Jesus figure taken from church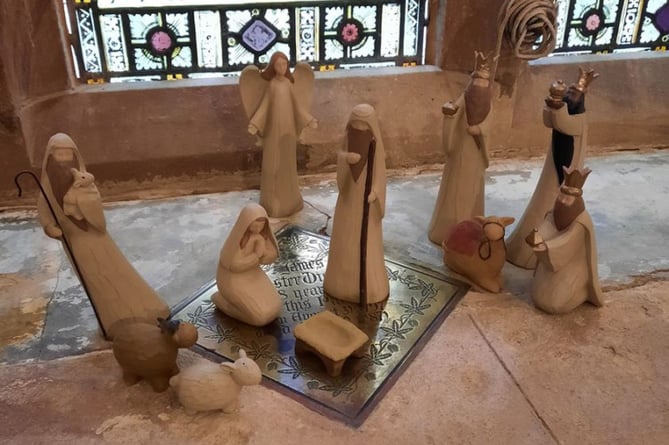 Subscribe newsletter
Subscribe to our email and get updates right in your inbox.
A clay figure representing the baby Jesus has gone missing from a nativity scene in Dixton Church.
The loss was noticed on Sunday January 23 following the 9.30am service by Churchwarden Kate Poynton, who was cleaning the church.It follows a report two weeks ago about the loss of another figure from a crib at Overmonnow church (Beacon January 12) although it is not thought the two are connected.The loss would have happened between the Jan 9 service and the Jan 25 service. Although St Peter's only holds fortnightly services, the church is open every day and closed by automatic gates between the hours of dusk until dawn."It is my hope that a little child may have picked it up and carried it around and maybe put it in their pocket, it's small enough to fit in the palm of a hand," said Kate."I'm appealing to anyone that may find a little clay figure in the wash, or whilst emptying out someone's pockets, that we would love to have it back" she added.The nativity scene is not that old as the last one was washed away in the floods of 2020.Rev Penny Powdrill, former priest in charge of the Wye Reaches which covers Wyesham, Dixton, Ganarew, Whitchurch and Bishopswood - it's now Rev Tim Starling - had only replaced the nativity scene recently so it was only a few years old."We looked everywhere in the church, but there are not too many nooks and crannies for it to be hidden in" continued Kate."It is a small hard-clay figure that is simply a head with the body concealed in a shawl so there are no arms and no legs."I would have thought the animals were far more interesting to a small child than the figure of Jesus, but if anyone comes across it, we would be grateful for its return" said Kate.The nativity scene will be left in the church until Feb 6.St Peter's is a popular church as it's close to a well-used riverside walk and the churchyard, which is thought to date back to Saxon times, is a popular break as it has benches for rest and reflection.
Comments
To leave a comment you need to create an account. |
All comments 0