Runners do their Levels best in the Rose Inn run
Wednesday 29th June 2022 11:00 am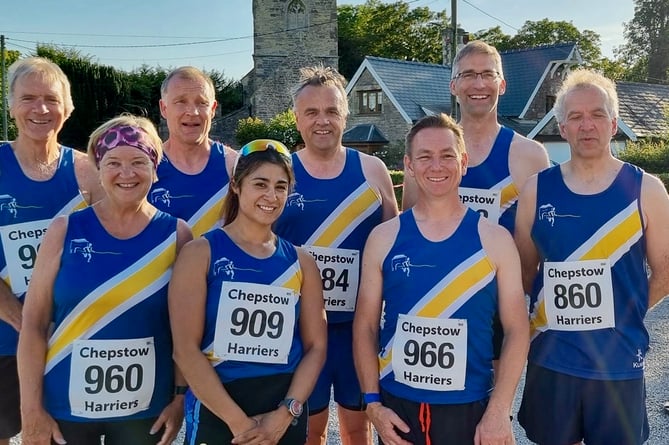 Spirity of Monmouth runners took part in the Rose Inn run
()
Subscribe newsletter
Subscribe to our email and get updates right in your inbox.
SPIRIT of Monmouth runners have been out enjoying the summer weather and competing in a range of races over various types of terrain and distance, reports SARAH CLIFTON.
Eight Spirit runners competed in the fast and flat four-mile Rose Inn midweek race organised by Chepstow Harriers, which attracted 171 starters.
The second in a four-race summer series, it starts in the village of Redwick on the Gwent Levels and is described as 'pancake flat', so is a great opportunity for runners to test their speed.
Tom Gostelow of Charnwood AC was fastest in 20.17, 11 seconds up on race one winner Sam Richards of Pontypridd Roadents, followed by Forest of Dean AC's Cory Sherwin in 21.03.
Fastest woman was Wales international Charlotte Arter of Cardiff AAC in a super-quick 21.20, followed by Lizzie Dimond of Lliswerry in 23.56.
On a beautiful hot summer evening, all the Spirit racers worked hard for their results, Brian Evans finishing in 27.06, Emily Harrison in 29.45, Rob Nelson in 30.00, Martin Blakebrough in 30.03, Barry Burns in 30.14, Jeremy Creasey in 31.55, Stephen McMenemy in 32.01 and Alison McMenemy in 38.43.
Fastest host club runner was Tim Batchelor in 22nd overall in 23.00, while club mate Robert Pritchard took third in the over-40 class in 25th in 23.49.
Over-60 runner Paul Dodd scorched to his age-group victory in 24.51, while evergreen Niki Morgan was first home for the second time running in the over-55 women's class in 25.23, just pipping over-50 winner and club mate Cherry Fowler by seven seconds.
Four seconds back was Harriers' Tony Marshall, who took third in the men's over-60 category, with Neil Grant fastest over-70 in 30.09 and Chepstow's Brenda Avery also showing younger runners the way home to win the over-70 women's class in 32.56.
Barbara Maddison also headed the women's over-60 category in 33.57.
Many runners will be hoping to continue training over the summer and return to race the course again on July 12 and August 9 to improve their times.
In contrast, three Spirit of Monmouth runners braved the Running Monk 50km (31-mile) Ultramarathon at Bishop's Castle along parts of the Shropshire Way, Offa's Dyke path and the Kerry Ridgeway and including 1200m of ascent.
Any running race longer than the standard 26.2-mile marathon distance is considered an ultramarathon and it is a huge commitment just to complete the training.
Cathy Fletcher had never run an ultramarathon before, but decided that a 50km race was a fitting way to celebrate her 50th birthday.
Allan Aird, also a first time ultramarathoner, decided to join her and Keith Penny, an experienced long distance runner, enjoyed training with them so much he also decided to enter.
The Spirit trio stayed together and supported each other throughout the race and were pleased to finish the course in a time of 6 hours 52 minutes.
Chris Baber also ran the Magic Roundabout 10k (6.2-mile) over technical hilly terrain at The Begwns common near Hay-on-Wye.
The 'roundabout' is a stand of trees at the highest point on the common surrounded by a drystone wall.
Chris enjoyed taking in the stunning views across to the Brecon Beacons and finished in a time of 57 minutes 32 seconds.
For more information about the Spirit of Monmouth Running Club, visit www.spiritofmonmouth.com or email [email protected]
Comments
To leave a comment you need to create an account. |
All comments 0