Sad to resign but hope others will now stand
Thursday 10th March 2022 11:00 am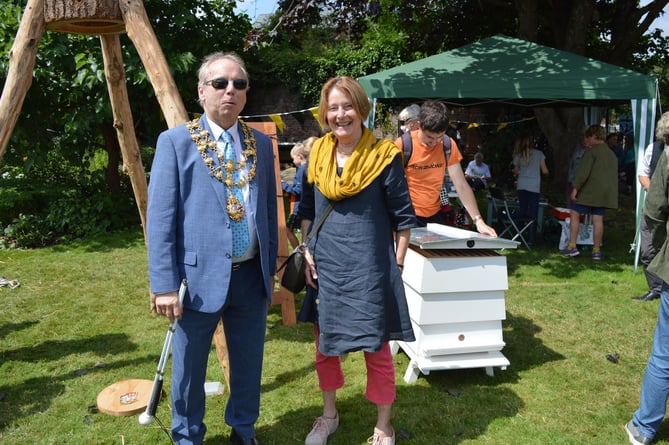 Cllr Anthea Dewhurst with Mayor Terry Christopher
(Tindle )
Subscribe newsletter
Subscribe to our email and get updates right in your inbox.
Amazingly,there is one point on which I wholeheartedly agree with Charles Boase (in his letter 'Kick Party Politics off the Town Council').
Please do consider standing for the Town Council. But this is where I differ: stand as a genuine independent or a recognised political party candidate.
Although they say they are not a party, The Indies seem to run the tightest, judgemental regime within which you may not feel the 'joy' of which Mr Boase writes. Think carefully before you join the 'Indy Party'.
I have been a Liberal Democrat councillor for 23 years in Monmouth.
During the last five years of that time, the Indies have created a political division, an artificial polarisation which never existed before. It was accepted that party politics is pretty irrelevant at very local level. Since The Indies joined Monmouth Town Council, a nasty, anti-democratic atmosphere has been suffered by us all. If you are not an Indy you must be a self-serving Tory.
At the beginning and until now, I tried hard to work with the energy of their excitement and ideas, because I kept hoping the council, which was by no means perfect, would be invigorated and even learn to communicate better.
I also kept hoping that they would gradually see that Monmouth does not fit neatly into their Yellow Book of Flatpack Democracy.
Each community is different. Heartbreakingly, the Indies have insisted on their own spin, whether on social media, in the Beacon or by word of mouth:
'This good idea has been achieved by us, despite the Town Council. Creative ideas can only be realised by the community of Monmouth, outside its council which is full of stupid rules'
For instance, the Lantern Parade at Christmas and the Future Climate Festival last summer, both being agreed and funded by the council, are but two examples when again and again, an unnecessary social division has been invented to prevent councillors from working together as a team.
No one was forthcoming with the emerging plans and progress, almost as though the project was a private challenge. The difficulties in communications caused by Covid have exacerbated the division, but surely could have been overcome sooner if we had worked together. So much goodwill has been wasted. I hope the new partnership with ACE (Action for Climate Emergency) becomes a break-through working arrangement, but for me, it is too late.
Monmouth Town Council could, by now, have become the town's positive, effective, innovative forum. Instead it feels bitter, embarrassing and broken.
Huge damage has been done to trust in local democracy here.
Please help to rebuild it. Please stand.
Note: I am resigning as a Town Councillor with great sadness. I apologise to everyone in my ward of Dixton with Osbaston and hope to remain as a friendly, active neighbour.
Comments
To leave a comment you need to create an account. |
All comments 0