A GIANT puppet, 'the Goddess of the Wye' appeared at the Redbrook Riversong event organised by the Save the Wye group on Sunday (June 25).
The interactive puppet, made by master puppet maker and environmental arts activist Kim Kaos, was heralded by the Forest Thump samba band. 
As well as talks on foraging and willow weaving, John Slater's giant haiku salmon made a great splash encouraged people to make up their own poems to stick on the fish.
In St. Saviour's Church, there was an exhibition on all things Wye from the local community. 
It was standing room only at the food tent which served a selection of savoury and sweet treats proving that chicken and egg free foods can be delicious and nutritious.
There was also an impressive exhibition of all things Wye from the local community, and a poetry trail by the river.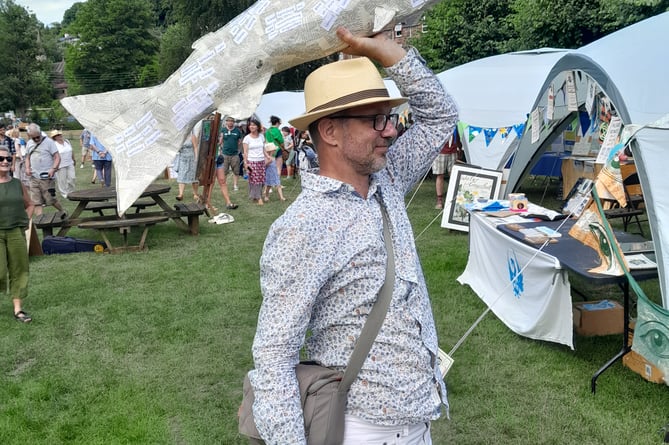 John Slater's Haiku Salmon was a popular attraction at the event
(Save the Wye)
A spokesman for the event said: "There are many causes of river pollution, but here in the Wye catchment, waste from agricultural intensive livestock units is the main polluter.
"It is stated that intensive poultry units in the Wye catchment contain 24 million chickens at any one time!
"The goddess told us: 'I am the Wye and speak for all life that depends on a clean river – the salmon, the kingfisher, the crayfish, the water crowfoot, and indeed you humans too.'"
Puppet master Kim said: "When Save the Wye came to me with the idea of making a giant puppet, I jumped at the chance, and threw myself into making something really special. 
"At over 3 metres tall, no-one should miss her.
"When someone you love is dying before your eyes, it is impossible not to act and try to save them. 
"I urge you all to step up and do everything in your power to clean up the river. 
"The time is now or never."
Save the Wye said Natural England recently officially downgraded the status of the river Wye to 'unfavourable, declining', "and despite yet more promises, consultations and round tables, we still have no sign of any urgent or meaningful action being taken by the Welsh or the English governments to halt the pollution and restore our river."
Find out more about Save the Wye's other events and meet the Goddess by visiting save the wye.org/eve.