Meet Monmouth's new Labour county councillors
Tuesday 17th May 2022 4:00 pm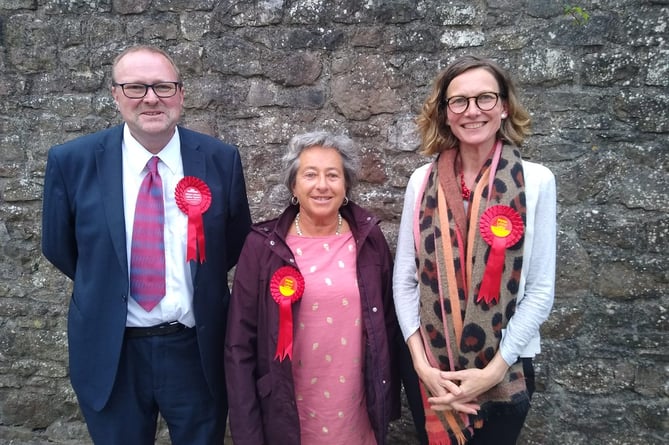 Monmouth County Councillors Steven Garratt, Catrin Maby and Catherine Fookes.
(Welsh Labour Party )
Subscribe newsletter
Subscribe to our email and get updates right in your inbox.
The local election on Thursday (May 5) delivered three new county councillors for Monmouth who stood under the Welsh Labour banner.
Voters went to polling stations across Monmouth to choose thier town and county councillors who will be in place for the next five-year term.
Monmouth returned three Welsh Labour county councillors across the five seats that were contested in Monmouth.
Catherine Fookes won in the new Town Ward, the first Labour Councillor in the Town since 1995.
Catherine said: ''I am honoured that the Town's residents have put their trust in me.
''I love our wonderful town from our two rivers to Shire Hall and Monnow Street, the green spaces and secret places like Nelson Gardens.
''It is a brilliant place to live but we need to reinvigorate our high street, ensure that there is plenty for our young people to do and that we have affordable housing across the county.''
Steven Garratt is the first Labour candidate to win in Overmonnow since May 1999 and said: "On the doorstep voters told me of their anger over the controversies in Westminster and the impact the cost of living crisis is having on them and their families.
''They also want Monmouthshire County Council to deliver on the final phase of the Active Travel Route to town from Kingswood Gate as well as provide more play areas and I look forward to progressing this."
Catrin Maby won in Drybridge, unseating Matt Feakins of the Welsh Conservatives.
She commented: "I am delighted to be elected as county councillor for Drybridge, and look forward to working with my fellow councillors and with local residents, businesses and community groups.
''These are tough times for so many people – let's do all we can to pull together in our communities, so that Monmouth can thrive and with a brighter and more sustainable future".
All three Labour councillors are really looking forward to serving local residents over the next five years and working with the Welsh Labour group to deliver on the manifesto for a 'Stronger, Fairer, Greener Monmouthshire'.
Catherine, Catrin and Steven will set up regular surgeries and these will be publicised in the coming weeks.
They have pledged to improve communication with residents about decisions that are being taken at County Hall in Usk and share how council tax is being spent to deliver vital services across Monmouthshire.
They also look forward to supporting local community groups.
Martyn Groucutt, who launched the party's manifesto said: "The new Labour-dominated council will work hand in glove with the Labour government in Cardiff. We will take this responsibility seriously and we will create a reinvigorated county council one that rules in the name of all of the people of Monmouthshire
"The detailed planning for our victory started back in January when a group got together to form the manifesto. From that group came a manifesto that we will stand by for the next five years, it is a manifesto for change and fairness
"There is so much that needs to be addressed in the name of fairness and equality and Labour will do that"
Comments
To leave a comment you need to create an account. |
All comments 0