Pilfering puss in dog house
Monday 8th August 2022 6:00 am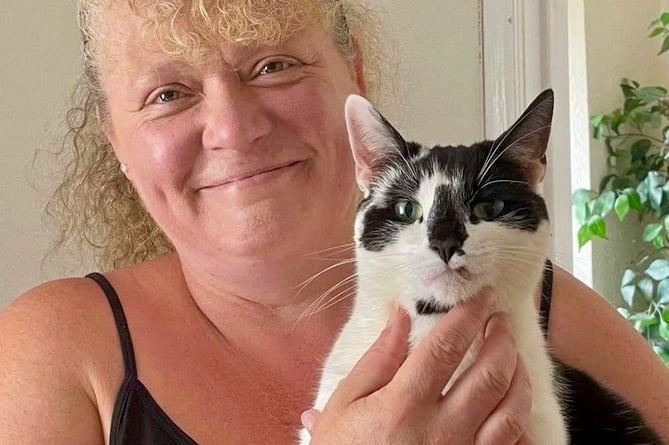 Subscribe newsletter
Subscribe to our email and get updates right in your inbox.
A CAT that survived a horror car accident last year has taken to stealing anything it can lay its paws on - including graveyard flowers and pants!
Owner Rachel Masterman, pictured above, thinks her moggy Demo has 'lost its marbles' since the accident, and has apologised to townspeople about her pilfering puss.
Posting a picture of a memorial flower bouquet Demo brought home from the local churchyard in Caldicot, Rachel said: "I am so embarrassed and quite frankly mortified that my cat has been stealing again.
"Apart from the three new gloves she has brought home, I gather she has just been over the graveyard and has stolen this beautiful arrangement.
"I am so sorry if it is yours. Please contact me so I can place it back in its rightful place. Damn cat!"
The flowers lifted by Demo, who was bought for daughter Sophia, have since been returned to the owner, who was "laughing in stitches" when she found out what had happened.
But 48-year-old former chef Rachel also previously posted a pic of pilfered striped underpants, telling residents on the town's community Facebook page: "My beautiful cat Demo was hit by a car last year and suffered a nasty head injury but £700 later and lots of love and care, she pulled through!
"Unfortunately she lost a few teeth… and the sight in her left eye but most worryingly… I think she has lost her marbles!
"Every single day she brings us home random stuff… from crisp packets, face masks to flowers from the graveyard, but tonight she really has gone all out!!
"If these belong to you.. then please inbox me as I'm sure you won't want to openly admit that they are yours!!"
And she later added: "Is anyone having their gloves stolen the last few days in the Birbeck Road area?
"My cat has a severe thieving problem and has brought home five of these gloves over the last 2 days.
"Lock up your belongings as she is very partial to a glove or two, boxer shorts, kids' hats… anything that is lying around in your garden."
Many saw the funny side on social media, posters labelling Demo a "cat burglar" and "Top Cat!"
One woman posted: "Mine brought a cuddly toy home once. It was crying loudly in the early hours to let me know and I thought it was someone's pet guinea pig or rabbit or something."
Others admitted that their cats had even stolen bras and half-knitted socks still attacked to the knitting needles from other people's houses.
Comments
To leave a comment you need to create an account. |
All comments 0