HATW charity rises to the challenges of lockdown
Wednesday 3rd February 2021 9:18 am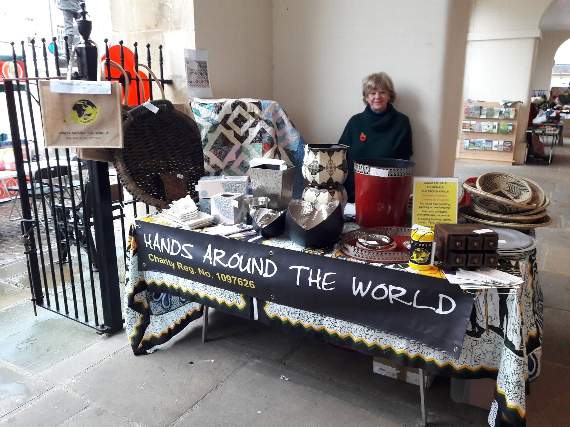 Volunteer Jenny with a HATW stall. Photo taken before lockdown restrictions applied
()
Subscribe newsletter
Subscribe to our email and get updates right in your inbox.
Twelve months ago, the Hands Around The World (HATW) office at the top of Church Street was a hive of activity, now, along with so many other offices and shops in Monmouth it appears to be closed for business, but that assumption could not be further from the truth, writes JANE POWELL.
Covid-19 has affected the way the charity works, but it has not stopped staff and volunteers from continuing to support their partner projects overseas, all of which have, to a greater or lesser extent, themselves suffered the adverse effects of this pandemic.
So what has changed? The most obvious outward sign to the casual observer is that the door is more often than not closed and staff, volunteers and supporters are no longer up and down those infamous stairs.
When access has been allowed, it has been limited and altered by government restrictions, which we are all keen to adhere to in order to keep everyone as safe as possible. The work of raising funds is much harder at present.
Pre-Covid, many will remember the regular coffee mornings and market stalls run by a band of enthusiastic and dedicated volunteers (oh to pop into The Priory or Ty Price for coffee, a slice of delicious home-made cake and a chat with friends!).
There were also regular evening talks open to all and invitations to HATW representatives to chat to local groups about their work, but all this has, for the time-being, gone.
However, all is not lost because in place of the coffee mornings are online weekly quizzes, it's true that everyone has to provide their own coffee and cake, but there is quite a buzz around them and a fair amount of friendly rivalry going on! If you are missing your local pub quiz or just fancy 20 minutes of entertainment for £3 make contact with [email protected] for details of how to join in the fun.
HATW works to support orphaned and vulnerable children, in part by ensuring those children have access to education, with schools closed in many parts of the world, the focus has had to shift a bit. In Zambia partner projects were hit by the double misfortune of Covid and very poor harvests due to adverse weather conditions, so funding has been provided for a feeding programme, ensuring that the most vulnerable have access to staple foods. There has also been an increased need for items such as soap and washing bowls to enable the schools to open when government guidelines have permitted.
In 2019 HATW celebrated 25 years of working to support those with great needs, with a well-attended celebration event at Bridges Community Centre, but supporters wanted to have a more lasting tribute to the charity and opted for tree planting.
All our overseas partners are enthusiastically on board, so far 175 trees have been planted in three countries, providing not only beauty and positive environmental impact, but eventually much needed shade and delicious fruits.
Obviously volunteers and staff are unable to travel abroad to visit projects just now, but are in regular contact by phone and online, challenged by the irregular access to electricity and WiFi in more remote places.
Overseas partners are ensuring that, wherever possible, they stay in contact with the children and young people, being conscious that children who feel hungry and alone are particularly vulnerable to abuse.
So, the work goes on, working from home means that those beavering away are not so visible, except of course online, but they are still there caring, creating opportunities and offering support to children who still need them, and you, as much, if not more, than ever.
If you are looking for UK based volunteering opportunities where better to look than an organisation that has been awarded The Queen's Award for Voluntary Service.
Comments
To leave a comment you need to create an account. |
All comments 0