Everesting challenge hosted by Monmouth Triathlon Club hailed a success
Tuesday 13th April 2021 4:35 pm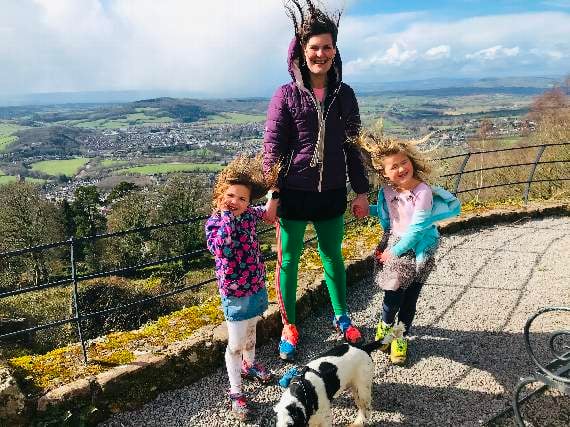 Becky Harris, chair of Monmouth Triathlon Club with her children Lillian and Cleo who both walked up the Kymin as part of the schools effort
()
Subscribe newsletter
Subscribe to our email and get updates right in your inbox.
An Everesting challenge hosted by Monmouth Triathlon Club has been completed.
Participants took to the hills to walk, run or cycle the height of Everest (29,031ft) during the month of March, in order to raise money for Prostate Cancer UK.
The club hosted the challenge in support of fellow member Gareth as he prepares to complete the full Everesting challenge in a few days time.
The challenge had over 170 participants working either in teams or individually to complete the gruelling task. Impressively, 1,350,184 feet of elevation was climbed, which is the equivalent of 58.6 Everest's climbed or 2140 Kymin's.
Fifteen members of Monmouth Triathlon Club completed the challenge in full, including Phil Tiley, former chairman who is fighting prostate cancer, Andrew Howells who cycled the equivalent of five Everest's in just 31 days and current chair, Becky Harris who ran the full challenge by including an ultra-marathon of 10 laps of the Kymin.
Becky said: "Running 10 laps of the Kymin was, as you can imagine, pretty gruelling and yet, it was only one quarter of the elevation Gareth will be facing.
''I was lucky I was able to take a few days off before completing the rest of the challenge but for Gareth, he'll still have another 27 ascents to climb before he goes home!
''It certainly put the enormity of his task into perspective!"
The club are delighted to have raised £1700 in support of Gareth and his mission to raise both awareness and money for Prostate Cancer UK.
"We would like to thank everyone who has donated and congratulate everyone who took part.
''We have been blown away by the support and would like to thank Ludus Gym, Rock up and Run, Monmouth Town Football Club, Spirit of Monmouth and Overmonnow, Osbaston and Kymin View Primary Schools for their monumental team efforts.
''A special well done to the schools team who collectively ran over 100,000 feet," said Becky.
Monmouth Tri Club handed over the baton back to Gareth who completed his almighty challenge of running up the Kymin 37 times on April 9 at 2pm.
Read his story in tomorrow's Beacon
Comments
To leave a comment you need to create an account. |
All comments 0