Growing the Welsh language in Monmouth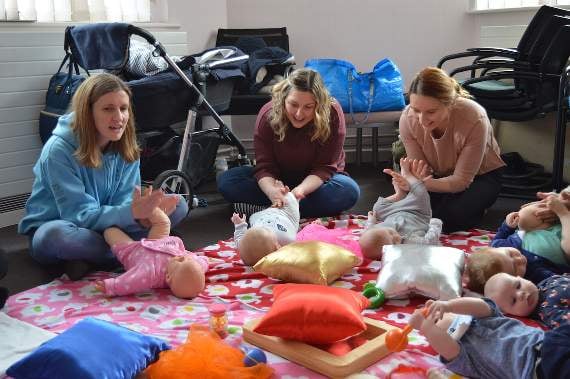 Subscribe newsletter
Subscribe to our email and get updates right in your inbox.
THE Welsh language is not something many associate with Monmouth but work being done with some of its youngest residents means that is is beginning to grow.
Cymraeg i Blant (Welsh for kids) is a Welsh Government program which introduces the Welsh language to parents and their young children.
In Monmouth this takes the form of baby massage groups and baby yoga groups held at Monmouth library.
Rhiannon Ellis, Cymraeg i Blant officer for Monmouthshire, runs the groups and said after a slow start there is a strong interest from parents.
The classes are not just for Welsh speakers but for any parent as it starts with very basic Welsh.
She said: "Initially it took a while to get people in but now it is relatively busy, we run two separate sessions here a week and there is a lot of interest in the Welsh language as well.
"Cymraeg i Blant, is about introducing the language to families. So we do it in a very non-threatening way, they come along and learn a new skill with the massage and yoga and then we introduce the language through songs and rhymes so it builds parent's confidence and they see it's not something to be afraid of and they can have a go at it.
"There is clearly an interest in the Welsh language which is something we didn't anticipate in Monmouth which is quite Anglicised.
"We have certain pockets in Monmouthshire which are very Welsh speaking but Monmouth was a target for us because there is a big push to get a Welsh medium school here. So we are really glad people are coming along and supporting that really."
The reaction from the parents who participate has been positive, with Welsh language options not abundant in the area, these classes are the first step towards growing their children's, their own and the town's Welsh language.
Laura Jones, one of the mums, said: "I want my child to speak bilingually before going to a nursery and having that chance to learn any other language later on. It's been proven how good it is to have a child be
exposed to another language."
Mrs Ellis also highlighted how classes like these are not only about spreading the Welsh language.
She added: "All the research indicates the earlier a language is introduced the better and the benefits of being bilingual from birth are massive, we know it can have massive cognitive effects for babies."
In the longer term it is hoped that classes like these are the first steps towards something bigger.
Mrs Ellis said: "Obviously we'd love to see a Welsh medium school here, as you can see from the groups there is a huge interest in the Welsh language.
"Unfortunately at the moment we are failing parents because there is no Welsh medium school which means they have to send their children across county to Abergavenny or Caldicot which is not ideal."
It is a future supported by Robin Davies, from the Monmouth and District Welsh Society.
The society caters to around 120 people with the events it runs, not all Welsh speakers but people interested in Welsh and Mr Davies believes if the language can gain a foothold then it can take off.
He said: "It has been a dream for the last 20 years to try to get a school in Monmouth. Obviously it is the logical conclusion if you are going to have a bilingual society. It's just about making the case for it.
"It is encouraging to see it develop in Monmouth, Ysgol Gymraeg Y Fenni, the Welsh school in Abergavenny only started off with a few people and now it has more than 200 pupils."
Comments
To leave a comment you need to create an account. |
All comments 0