Monmouth fuel prices hit new high as Shell declares record profits
Petrol prices in Monmouth hit 152.9p per litre this week, with diesel coming in at 157.9p per litre.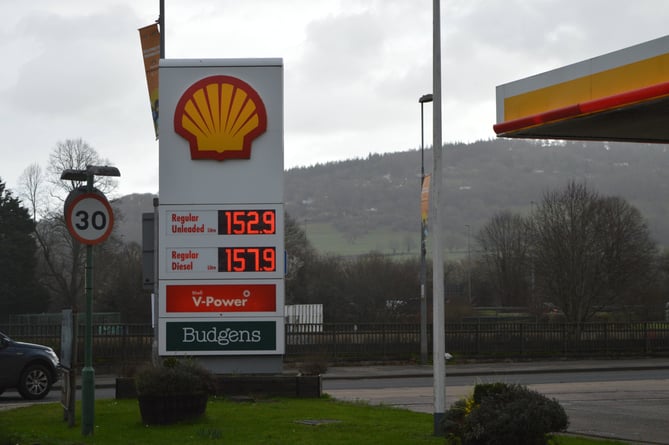 Monmouth's only petrol station - 152.9 for petrol, 157.9 for diesel
(Tindle )
Subscribe newsletter
Subscribe to our email and get updates right in your inbox.
Monmouth residents have expressed heated criticisms of the continued rise in fuel prices in the towns's only petrol station. This comes amidst a cost-of-living crisis, record profits declared by fuel companies, and woefully insufficient alternatives offered by public transport.
Shell - who supply the Monmouth petrol station - has recorded a fourteen-fold increase in quarterly profits spurring on calls for a windfall tax to relieve the burden on households as household costs and bills surge.
The petrol company recorded a £6.4bn profit in the final quarter (October to December) of last year (2021), from only £393m the year earlier.
Beacon reader Larry Stoter advised: "The Monmouth filling station is the most expensive for miles, Apple Green Services on the A40 between Whitchurch and Doward are almost always cheaper, usually by several pence per litre, and less than 10 minutes drive away. Even the Shell opposite Apple Green is usually cheaper than the Monmouth Shell."
"
"A few weeks ago I filled up for 10p per litre less than the Monmouth Shell. Although, that was on the A4047 between Brynmawr and Beaufort so I won't be a regular, but it does demonstrate that filling stations do have some flexibility on what they charge."
Larry Stoter
County Councillor Jeremy Becker weighed in: "That'd be a Shell garage - not that its cheaper elsewhere - but it's significant to remember that Shell made £14.2 billion pounds of profit in the last year."
This comes amidst, not only the cost-of-living crisis, but a longer trend of residents being expected to shoulder the costs of owning, maintaining and driving a car, whilst essential public services become increasingly sparse. After the A&E at Nevill Hall in Abergavenny was downgraded to a minor injuries unit, residents are forced to visit Cwmbran for A&E services. Bus routes often require several changes and the latest someone can return from The Grange to Monmouth is at 3.31pm - to arrive at around 6pm - which requires a train via Hereford.
It's a widely held belief that most people - particularly of working age - require a car to live in Monmouth. Even even the strongest advocates for developing active travel in the town have reported the necessity to own a car, and thus are subject to the economic forces of local fuel prices. The Beacon reported last year concerns raised at the ACE Monmouth's Climate Future Festival on the dire state of Monmouth's bus services, with many nearby towns being inaccessible by bus on a Sunday. To get to Abergavenny from Monmouth on a Sunday requires travelling via train.
With residents being expected to travel further for public services, the cost-of-living-crisis is becoming particularly painful.
Comments
To leave a comment you need to create an account. |
All comments 0