Mannequins' close shave as boutique is struck yet again
Shop window mannequins on a tight town centre corner had a near miss, when the boutique was hit by a trailer being towed by a vehicle, reports NICK HARTLAND.
Saturday 19th February 2022 5:00 pm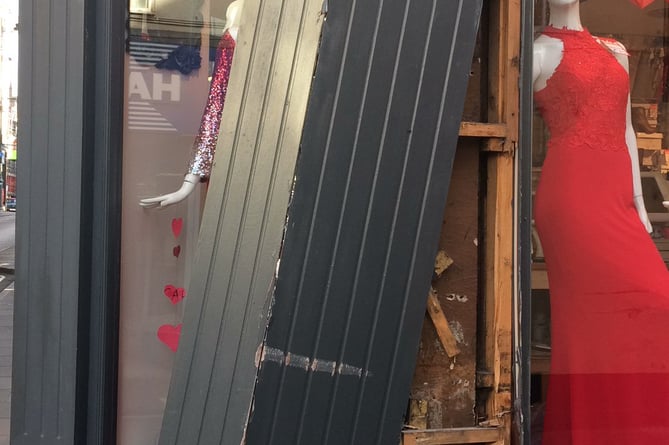 The damaged shop front
()
Subscribe newsletter
Subscribe to our email and get updates right in your inbox.
Suit U on Monnow Street has suffered repeated hits from lorries and delivery vans misdirected onto it along the one-way St John Street by sat-nav.
But this time, witnesses said it was a vehicle with a van on a trailer which drove off without stopping.
Store owner Parviz Taghdiri said he's lost count of the number of times they have been hit over the last 20 years, with the damage costing thousands of pounds and repeated calls to the county council for bollards or railings falling on deaf ears.
He said it's normally lorries or delivery vans who perhaps don't read the "small" sign installed by the council saying the one-way road is "unsuitable" for HGVs.
But this time it was a trailer that did the damage, according to witnesses who saw the smash around 7.10pm a week last Tuesday (February 1).
Mr Taghdiri says they and the police are checking CCTV to see if they can identify the vehicle, but the shop has been hit so many times he's "used to it".
"It's mainly drivers being directed there by sat nav, who ignore the very small sign the council have installed. To be honest, you can barely see the sign.
"Once they get there, they can't reverse as it's a one-way street. It's happened more than 10 times, and we've had worst damage than this .
"I've asked for bollards to give us some protection, but nothing happens. I contacted them again after this crash, but I'm still waiting and I won't get a response.
"We've had broken shop windows before, and a complete shop front taken out, and have had to swap the marble frontage for wood.
"We've had a temporary repair this time to make it safe, but there's crack that will need fixing, but last time it cost £3,000 just to close the road to do the work.
"You'd think the council could put some bollards there and do something with the sign!"
Wife and co-owner Michelle said: "We had the frontage done up one time and two days later it was trashed.
"Whenever is done, it's like 'bingo', it gets hit again. It's a waste of time talking to the council, it's never been resolved.
"One time we had a transporter lorry wedged there for hours which took out the stone, fascia and wood at the side of the shop. My husband said years ago it was ruining the business.
"A large part of the corner was taken away last week, so I'm sure the driver must have heard something."
They added that Oliver Dunn and James Fear had kindly done a temporary repair, and the police had been very helpful in looking into the matter.
Shop manager Maria Drew posted photos showing the mannequins surveying the damage, and said: "How disappointing to be hit yet again! We've lost count how many times we've been hit now, it's at least 10 times!!!
"We need solid iron railings to protect our little shop, please Monmouth council help us. The highways put a sign up to stop heavy ton vehicles entering St Johns Street but blink and you certainly miss the sign and if the drivers did see the sign they clearly don't listen. It needs bollards in front of our window to take the impact first and not our beautiful little shop every time." Later she added: "Someone witnessed the incident we're hoping the driver will come forward."
Comments
To leave a comment you need to create an account. |
All comments 0