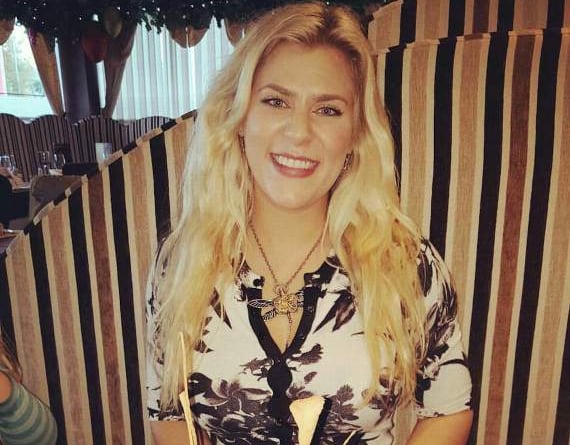 Peter Morgan is accused of murdering Georgina Symonds (pictured) in January
()
Subscribe newsletter
Subscribe to our email and get updates right in your inbox.
A MAN accused of murdering a 25-year-old and hiding her body in Usk was attempting to "frighten" her when he allegedly killed her.
54-year-old Peter David Morgan from Llanellen Court Farm, Llanellen, is appearing at Newport Crown Court this week charged with the murder of 25-year-old Georgina Symonds on 12th January this year.
Multi-millionaire property developer Morgan denies murdering Ms Symonds, a former escort who he had been in a relationship with for around three years, on the ground of diminished responsibility.
Prosecuting QC William Hughes told the court last week that the alleged murder was "pre meditated" and "well planned" but Morgan's defence argue that there is evidence Morgan has Asperger's syndrome, suggesting he would not be fully responsible for his actions.
Morgan, who was paying Ms Symonds around £7,000 a month to live at his bungalow in Llanmartin, allegedly strangled her with baling twine before attempting to hide her body at Beech Hill Farm in Usk.
The court earlier heard Morgan had decided to "frighten" Ms Symonds after he overheard her discussing plans to leave him. It was said that Morgan had installed a listening device in the form of a socket adapter in the property, which he used several times.
Morgan also told officers that Ms Symonds blamed him for her former partner's suicide, along with a visit from social services after he persuaded her to speak with a mental health worker.
Psychological assessments on Morgan, discussed in court yesterday (6th December) revealed that there are differing opinions on Morgan's condition.
Defending QC Patrick Harrington called Dr Simon Baron-Cohen to the stand, a professor of developmental psychopathology at the University of Cambridge, who said he is in "no doubt" that Morgan has Asperger's syndrome.
He told the court Morgan admitted: "I'm not a people person. I'm not interested in people.
"I can deal with people but I can't be bothered with people."
Dr Baron-Cohen described to the court two questionnaires which were filled out by Morgan. While in an Autism Spectrum Quotient test Morgan appeared to not have the condition, his score in an Empathy Quotient test was in a threshold similar to those with Asberger's. A third questionnaire filled out by Morgan's parents, called the Childhood Autism Spectrum Test, found Morgan was again in the range of those with Asperger's.
Dr Baron-Cohen added that Morgan had seemed "resistant" to taking the tests.
He told the court Morgan said the tests "didn't apply to him" and that he "didn't have any problems."
Describing the results of the first questionnaire, Dr Baron-Cohen told the court: "He was probably filling it out in a way he thought was socially acceptable."
The prosecution called Dr Ajat Sanikop, a registered medical practitioner and member of the royal college of psychiatry, who told the court he believes there is no evidence that Morgan has Asbergers syndrome.
Dr Sanikop interviewed Morgan in November, and said Morgan had "no communication problems" and that he was "able to communicate well."
Morgan also told the doctor that he had been living alone after the breakdown of his marriage and that he is a multimillionaire property developer.
Dr Sanikop told the court: "He gave the impression he was not controlling or asking her to do anything she was not interested in.
"I felt it was not a conventional relationship due to the significant amount of money involved.
"He said that he cared for her and felt responsible to provide support when she was having difficulties."
Dr Sanikop said that he believed Morgan could not have Asperger's, in part due to his previous long term relationships and success in business.
He also told the court he found it "very unusual" that Morgan had not previously been assessed by his GP or a psychologist and that the condition had not previously been discovered.
On Monday (5th December) the court viewed the fourth in a series of recorded interviews after Morgan's arrest in January. He admitted killing Ms Symonds, and when looking at CCTV recorded at Beech Hill Farm he told officers "that is me and that is what I've done."
He also said he planned to plead guilty. "I want to go to court, plead guilty and get locked up," he said.
"I don't want this to come out in court."
Morgan says Ms Symonds had threatened to send his family images and videos of him if he stopped paying her money. He told interviewers that he wanted to "frighten her" after he had overheard her discussing leaving him. He said she had planned to "fleece him" before going to London to find work as an escort.
"I thought she'd be afraid," she told officers.
"I didn't know I had the stomach to do it."
He also told police he "didn't see any other options," and that he is "not an emotional person."
He said he had gone to the property with the intention to "go down there, throttle her and try to worry her."
"If she'd been scared I would have stopped," he said.
Comments
To leave a comment you need to create an account. |
All comments 0